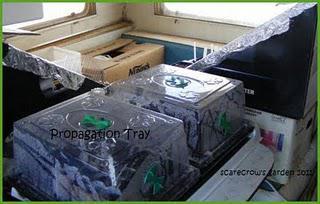 I like to get an early start on spring seeds. After researching the
Optimal Germinating Temperatures of Seeds
I decided to use a heated propagation frame as the soil in my area is still extremely cold. This unit has been set up in an old, storage caravan which has enough natural light for seed germination.
This will allow the planting out of advanced seedlings during October. These seedlings when correctly "hardened off" tend to be able to withstand pest attack more readily.
Your climate may suit direct sowing of seeds into the soil at warm times of the year. This way works for me. As soon as they are big enough I shall pot them on and tuck them up in
the hot house
.
Last year our last frost date was Nov 1.
Other ways of providing warmth are:
Building and Using Hotbeds and Coldframes see here
Keep Your Plants All Winter with a Cold Frame
see here
Seed Starter Box
see here
on a sunny window sill inside
How to build a manure heated hot frame
see here
Build A Real Simple Hot Frame
see here
Or you could start seeds on top of a warm heat source like a hot water storage unit or even on top of your fridge,
just be very careful how you water the seedlings!!
A description of the varieties I have chosen for this year:
TOMATO
Lycopersicon esculentum
**
STOR GUL The Lost Seed
golden fruit
medium sized fruit
smooth skin
to 10cm across
vigorous to 2.1m in height
78-85 days
**
PINEAPPLE The Lost Seed
yellow fruit
large, beefsteak fruit over 500g
sturdy vines with good leaf coverage
smooth, mild flavour with low acid
High yields
85-90 days

**
MONEY MAKER The Lost Seed
scarlet red fruit
round, smooth fruits
thin skin & solid flesh to 115g
vigorous, open bush.
high yields
sets well in all types of weather
Old English heirloom dating back prior to the 1920's
75-80 days
**
BIG RAINBOW Diggers
flesh changing from green to yellow, red and pink
18kg per plant
transplant >20 C soil temperature
118 days
GROSSE LISSE Eden seeds
red colour
globe-shaped smooth fruit
produces abundantly over a long time
best staked
success in all states
80-105 days
BLACK RUSSIAN The Lost Seed
Russian heirloom
reddish-black fruit
medium sized fruit 4-6cm across
smooth skin and dark flesh
beefstake type
69-100 days
KOTLAS The Lost Seed
Soviet Union heirloom
red fruit
small round fruit
sparsely foliaged bush
best croppers last year!

59 days
**
IDA GOLD Home saved originally from seed savers network
golden sweet fruit
small fruit on dwarf plant
ideal for edging or containers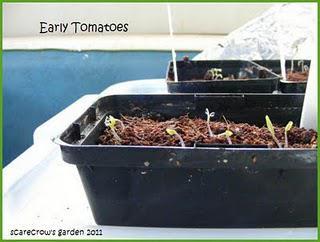 **COSSACK PINEAPPLE
Physalis pruinosa
Phoenix Seeds
50 cm ground covering plant
native to Eastern North America
1.5cm golden sweet edible fruits
space plants 30cm apart
seeds need light to germinate
preferred soil temperature of 27C
closely related to Cape Gooseberries also known as Ground Cherry
EGGPLANT
Solanum melongena
CASPER Eden seeds
white heirloom eggplant
quick to produce
fruits approx 5cm x 15cm.
90 days
LONG PURPLE Diggers
deep purple fruit
yield 3.5kg per plant
sow 18C
CAPSICUM
Capsicum annuum
**
CALIFORNIA WONDER New Gippsland Seeds
bell type
red and green fruit
**
HUNGARIAN YELLOW WAX Eden seeds
light yellow fruit changing to orange red
thin tapered cylindrical fruit to 13cm
sweet (mild heat)
BEAN
Runner
Phaseolus coccineus
A few of these seeds have been planted.
**
SUNSET RUNNER Diggers
salmon-pink flowers
lives up to 7 yrs
**
SCARLET EMPEROR The Lost Seed
perennial
also known as 'Seven Year Bean'
scarlet coloured flowers
first introduced in 1600's
70-90 days
Most of this information comes from the seed packets! For links to the Seed Suppliers go here
**
varieties grown for my garden, leftovers and the rest are grown for sharing with friends and the Community Garden Plotters (I may keep one of the Eggplants but we really don't eat many of these.)
More info on starting from seeds:
Growing From Seed
The Horticultural Channel
It's an English site so don't go by their planting dates but contains useful information (on video) for beginners.
Emma Cooper (also in UK) has a series of useful seed raising tips using peat free mixes on her Blog
Here