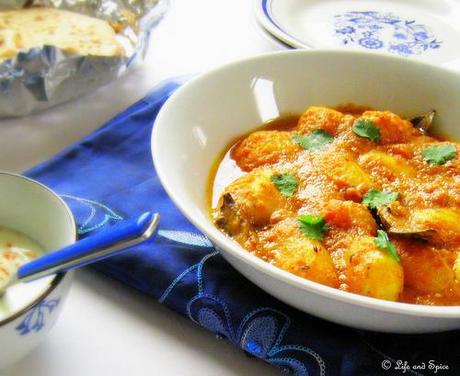 Dum Aloo is a classic North Indian dish with baby potatoes boiled in a rich and spicy tomato based gravy. This heart warming bowl of comfort along with Indian flat breads can transport one to food heaven!! The name
Dum Aloo
translates to cooking Potatoes (
aloo
) under pressure (
dum
) so that the potatoes are soaked in the gravy and the spices are well absorbed. How mouth watering does that sound!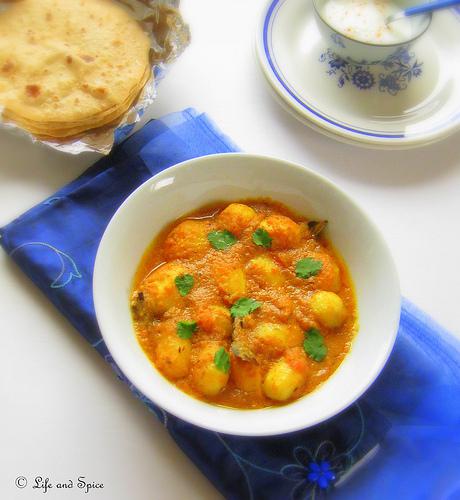 Germany celebrates its Unification day tomorrow, 3rd Oct. Along with the long weekend, we are also blessed with great weather this year. With the sun shining on us and lot of time on hand, we set out on long road trips, ate out and tried various cuisines. The great weather lifted my spirits and motivated me to cook quite a bit.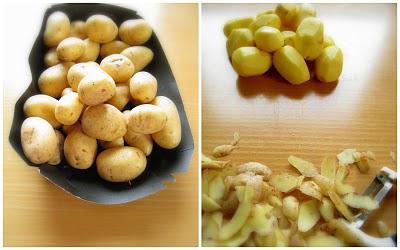 I wouldn't be exaggerating if I say potatoes are my first love! Yes, these tubers are so versatile and can be cooked up in so many different ways. My love for potatoes doubled after I came to Germany. The famous Kartoffelsalat, for which every German family seems to have their own unique recipe or simply oven baked whole-potatoes or the gratins, we love all of them. Today a very Indian recipe that does perfect justice to my favorite Aloo coming for you. I hope you enjoy it.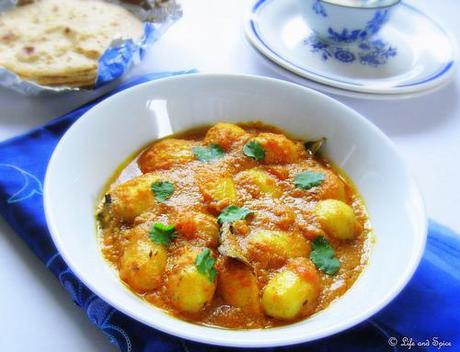 Ingredients:
10-15 baby potatoes scraped
3-4 tablespoons oil for shallow frying
1 onion chopped finely
2 large tomatoes pureed
4 tablespoons beaten yogurt
1 tsp kitchen king masala
1 tsp turmeric powder
2 cloves, 2 bay leaves, 2 cardamoms
1/2 inch piece of cinnamon
Salt to taste
Cilantro leaves for garnishing (optional)
Grind to paste:
3 red chilies (adjust according to your taste)
1 large onion chopped
4 garlic pods
1 inch piece of ginger
1 tsp poppy seeds
1/2 tbsp coriander seeds
Recipe:
Prick the potatoes with a fork and soak in lightly salted water for 30 minutes so that the potatoes absorb the salt.
Dry the potatoes on a kitchen towel and shallow fry in oil until golden brown. Drain and set aside.
Heat a tsp of oil in a pressure pan, add cumin seeds. When cumin starts fuming, add chopped onions, cloves, bay leaves, cardamom and fry till onion turns golden brown.
Stir in the ground paste and saute till the raw smell goes away (about 4-5 mins). Stir in the tomato paste and beaten yogurt, turmeric powder, kitchen king masala and salt.
To this, add the shallow fried baby potatoes and little water to get a gravy like consistency. Now pressure cook it. Cook for 4-5 minutes and turn off the heat just before the first whistle.
Garnish with fresh chopped coriander leaves and serve with your favourite breads.
Serves: 4
Time required: 30 mins

Don't miss a post. Subscribe to Life n Spice by email!