I've never tasted coddle.
I know, shock and horror!
I grew up in Drogheda and coddle wasn't considered the delicacy it is in the capital. The first time I heard of it I was sure someone was taking the piss. Now I've come to the conclusion that if you try it when you're young you will have a lifelong infatuation but if you wait until you're my age it kinda freaks you out a bit!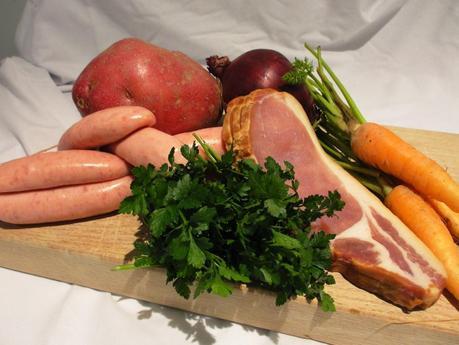 The ingredients for Dublin Coddle. So pretty apart but will they be as nice together?
Making Dublin coddle was one of my 14 Things to Get Excited About in 2014 and since January I have been scouring cookbooks and online recipes to find a dish that I'd be happy trying. I've come to the conclusion that everyones coddle is different, which delights me, it means I can bend the recipe a bit to suit myself with relative impunity!
Here's my version:
Dublin Coddle
Serves 2
250g sausages -made into cocktail sausages so they look less like willies.
150g dry cured bacon - cut into chunks
3 medium potatoes - peeled and halved
1 medium red onions - roughly chopped
1 medium carrots - roughly sliced
500ml chicken stock - I had no fresh stock so used a packet of Knorr readymade.
Parsley
Pepper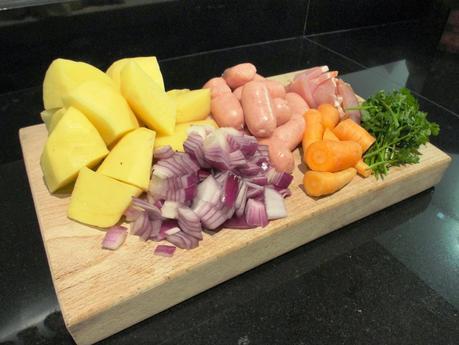 Ready for the pot! 
Add the sausages, bacon, onions, carrots and stock to a saucepan.
Bring to the boil and then simmer on the lowest heat until the potatoes are tender.
Turn the heat off.
Leave to sit for 24 hours (I've been reliable informed that coddle improves with age)
Just before serving heat the coddle and stir in the parsley and add pepper to taste.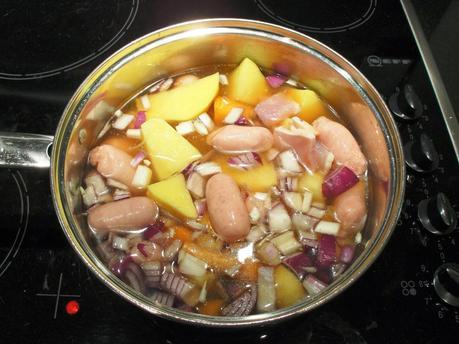 In 25 minutes this will be transformed into a dish that brings tears to a Dubliners eye ... 
So the verdict?
It looks disgusting. Sort of like an anaemic pile of entrails. It tastes OK though. I'm not entirely sure what all the fuss is about! It's warm and hearty but boy is it salty.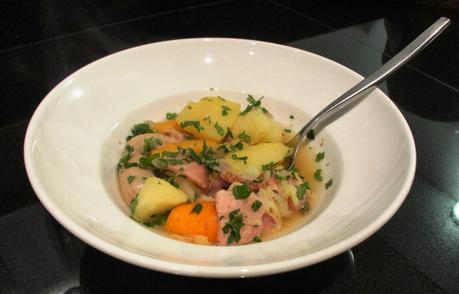 Hearty and salty! 
In conclusion, I won't be turning my nose up at it like I used to but I probably also won't be making it again anytime soon either. You "real" Dubs can keep your widows memories to yourselves! (Thanks for Edible Ireland for that analogy)