MARCH 30, 2012
   DRESS UP  BOX    
THE KEY ELEMENTS TO THIS TREND ARE:
Dress up "styling".

Quirky novelty pattern and prints.

Miss match fabrics/textures and garment shapes.

Pastel shapes with rave style accessories.

The idea of "anti beauty".

Playful and fresh for spring/summer.

Anything goes quality.

Naive imagery.

Bright statement pieces complimented by candy sahes.
Trend Forecaster weekly contributor -
HanaMarie.☮
   [ 
hanamarie-hanamarie.blogspot.com
 ]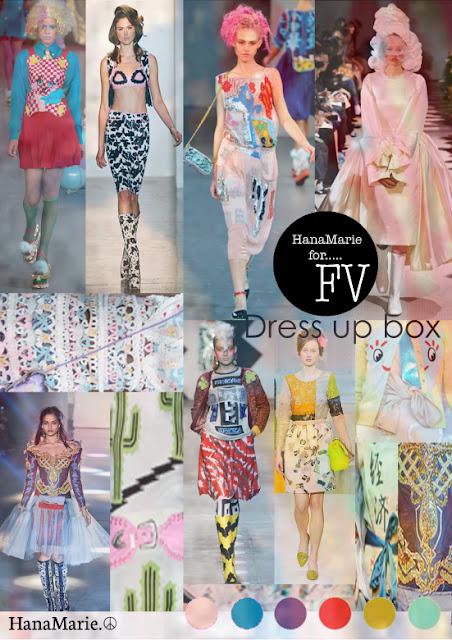 © 2012 by HanaMarie. All rights reserved.   
Inspirational layout may not be reproduced or transmitted in any form or by any means, electronic, photocopying, or otherwise, without prior written permission.
Source of inspirations:
Meadham Kirchhoff, M
eadham Kirchhoff, C
ommes Des Garcons, M
eadham Kirchhoff, V
ivienne Westwood, J
eremy Scott, Louise Gray, Moschino Cheap and Chic, Meadham Kirchoff, Louise Grey and Vivienne Westwood