I don't know about you, but I happen to love meditterranean food.  Sure, I'd most enjoy this fare overlooking the sea on a breathtaking Greek island, but since that's not something I am often able to do, I enjoy looking for authentic-style restaurants near me that can replicate some of the beautiful dishes with the freshest and tastiest ingredients.  In Manhattan, I have found two places that have done a wonderful job in offering this cuisine. And what's best?  I enjoyed my meals there with family and friends!
The first is
Avra Estiatoria
on E 48th Street between Lexington and 3rd Avenues.  "From the moment you step through our doors you feel you've been transported to a Villa in Greece. You are surrounded by an authentic, cozy Mediterranean atmosphere with imported limestone and distressed wood floors, stonewashed walls, exposed wood beams, and French doors that open to a beautiful flowered courtyard..."
I couldn't have said it better myself ;-)  Just yesterday I met three friends there and got to enjoy a sunny, warm, shaded slightly by an umbrella on the patio just outside the main door.  We were greeted with ice water and fresh breads, oil-cured olives, hummus and crisp radishes as soon as we sat.  We then decided to share an order of gigandes, lima beans cooked in a savory tomato sauce with red onion, which were truly delicious.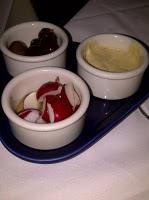 Olives, hummus and radishes at Avra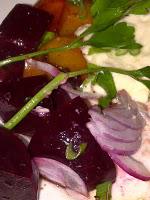 Skordalia with roasted yellow and red beets at Avra

For lunch, there was a variety of pasta and spanikopita, but I settled on the skordalia ~ a gorgeous, garlicky dish of roasted beets, raw red onion and a potato and garlic puree with olive oil.  It is an appetizer but the portion was large enough to serve as an entree ot to be shared by two before a second course.  (I did that last time actually!)
At Kellari Parea, in the flatiron district, they also have a fabulous menu with delicious vegan (or vegan adaptable) options.  I thoroughly enjoyed the melitzinosalata, an eggplant puree, and their fava bean spread as appetizers.  They also offered an earthy shredded romaine salad which was good, but their gigandes were the best I have had by far.  The sauce was so flavorful, it came straight from the oven, and while I was happy to share with my cousins who had joined me for the night, I was glad the portion was so big so there was still plenty for me to enjoy!
I know with the holiday weekend, mind's are focused on the beach, but if you are in New York, or are just yearning for the sea, the food at either of these establishments makes it nice to pretend you're somewhere else.