Before I wrote this blog I tried to rid my head of all preconceived notions about award winning restaurants. I went so far as to wonder whether theses accolades actually do more damage than good in the long run. Recently I visited Bib Gourmand winning Downstairs Restaurant in Clontarf and to be honest I was a bit disappointed. It's a very good neighbourhood bistro but, as far as I could see, that's about it.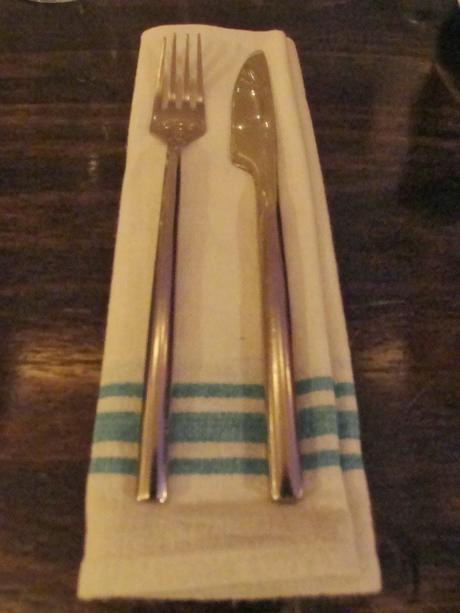 I'm a sucker for the dark wood with white linens!
(Apologies for the the poor picture quality in this blog, the light wasn't to the liking of my iPhone!)
Despite being in a basement Downstairs has quite an airy feel when you walk in. This is due in part to the high ceilings but also to the clean crisp lines of the interiors. I love all the dark wood contrasted against the stark white napkins. We got the last free table in the house, I know I should be grateful, but I didn't enjoy sitting at right angles to my partner or facing a wall while I ate. It's a catch 22 situation; do they offer the inferior table or turn away the diners?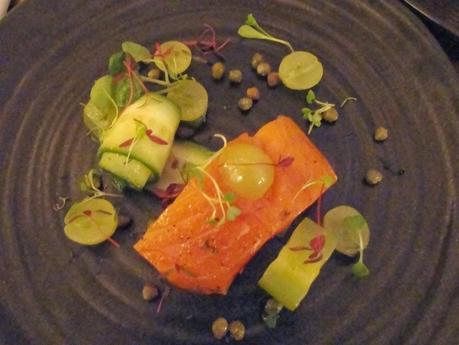 Gin cured salmon.
For starters I went for gin cured salmon with cucumber, capers and grapes. The salmon was perfect; it had an ever so slightly fragrant flavor and a nice dry texture. The dish needed something else to pull it together though, perhaps a créme fraiche or a whipped cream cheese?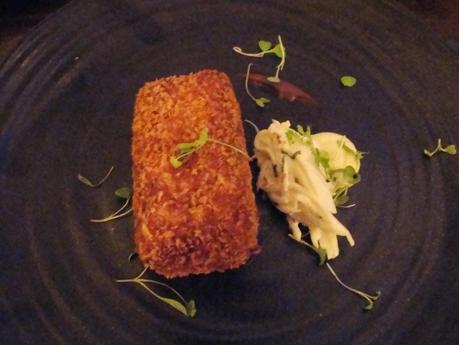 Ham hock croquette.
Himself decided on a ham hock croquette which was served with Savoy coleslaw. It was a delightful thing, crispy outside with a soft salty interior. He reckoned it was near perfect but could have benefited from a dip or relish.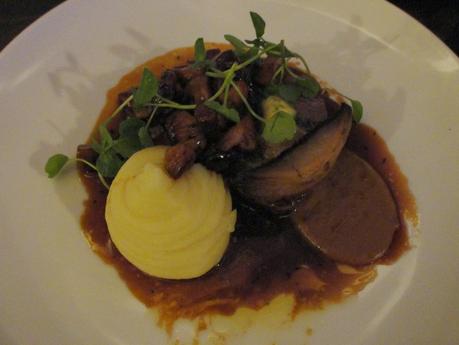 Fillet steak with mashed potato.
His main of fillet steak and mash was declared equally delicious though he did wonder whether the price tag equated to value for money. The steak was a decent quality and served with plenty of gravy!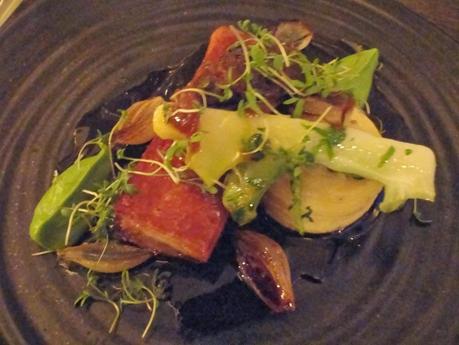 Delicious pork belly with offending broccoli stalk (under the asparagus!)
For my main I went with the roast belly of pork with mustard mash, white asparagus and broccoli purée. The pork was divine. Succulent, juicy and oozing with taste. The skin was both chewy and gelatinous at the same time, the kind of stuff that sticks to your teeth like super glue to your fingers. There was a weak point to the dish though, the broccoli stalk. Who wants a bare broccoli stalk in the middle of their plate? I understand it might be nutritious and that we need to avoid waste but when I'm eating in an awarding winning restaurant and I'm paying close to €20 for a dish this is the last thing I want or expect!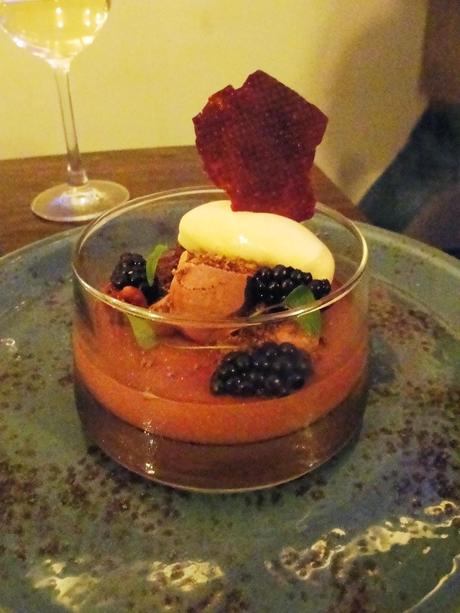 Chocolate mousse.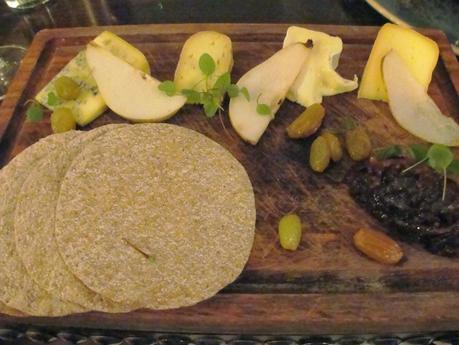 Cheese plate of unknown provenance... I think I worked out what each was though!
We finished up sharing a superb chocolate mousse and a generous cheese plate. I'd love to tell you what was on the cheese plate but I don't know for certain. This is a huge bug bear of mine, why do waiters just dump the cheese plate and run?
Two decent espressos, a bottle of white wine and an espresso martini brought our bill close to a not inconsiderable €130. I had to pause and consider whether the meal was value for money. Did I enjoy it? Yes. Was it without fault? No. It's worth remembering that a Bib Gourmand is awarded for good cuisine at reasonable prices. In the case of Downstairs, as much as I liked the food, I just can't agree that these are reasonable prices for what you get.
I'm left wondering what a restaurant has to do to get this "Bib Gourmand" award. If Downstairs qualifies why have places such as Pichet (***Pichet actually has a Bib - see comments below***), Whitefriar Grill and Hot Stove, who produce equally good and, perhaps, better value food, not been recognized too? I dearly hope there isn't some financial reason behind all of this!