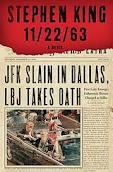 While I enjoy most of King's novels I'm not sure I'd recommend this book to a first time King reader.  While the book is everything we've come to expect from Stephen King I'm not sure the plot itself really showcases what King is known for and anyone coming to this book expected to stay up late with the nights on will be disappointed.  It's creepy in its own way, but it's not exactly a "watch out for clowns in your sewer" kind of scary.  If you're in the mood for a sci-fi thrill read then this is the summer book for you.  If you're looking for another thriller like "The Shining" you'll be disappointed.
Jake Epping has just gotten through a divorce with his alcoholic life and is ready to settle into his mundane life as sing, high school English teacher.  Things seem to be following the pattern he expects until his friend Al lets him in on a secret, he can travel back in time and has plans to change the world.  The only problem is that Al can't finish what he started and he convinces Jake to go back and stop the JKF assassination. Every action has a reaction though, and it isn't long before Jake realizes changing the past may not be the gift Al expected it to be.
This book reminded me a little of King's earlier "Dead Zone" although the book offers enough twists and turns to keep it from sounded like a rehash of an earlier King plot.  At over 800 pages King maintains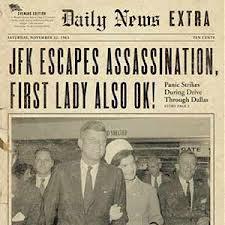 his reputation for being able to stretch out a plot for all it's worth without the action dragging.  Once again King delivers a speculative fiction novel which offers both suspense and something to think about.  It's obvious he's done his homework about potential histories and what would have happened politically and world-wide if John F. Kennedy hadn't been assassinated.  Without giving any of the ending away, the future world he creates leaves you with a lot to think about even after Jake goes on his final journey down the rabbit hole.
The book was as well written and the characters as vibrant as you would expect from any other King novel. I can't say this is one of my favorite King novels by a long shot.  The story is not quite as fast paced as some of his others and while the pacing is done superbly there are still sections that I had to force myself to get through.  If you're more of a fan of King's horror than his science fiction you may find this book a little slow for your tastes, but if you have the time this summer it's well worth picking it up.