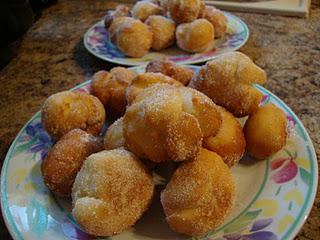 A while ago I was feeling the need for lots of sweet things, and as we know most cakes/pastries/desserts are a no-go if you need gluten free. It was the September issue of delicious magazine that caught my eye. I was actually fancying a go at making doughnuts, then the magazine came out with mini doughnuts on the cover! After a quick look through the recipe I thought I'd give it a go, substituting the strong white bread flour, for Doves Farm gluten-free bread flour to see how it would go.
The recipe was easy to follow, but for just two of us there seemed to be a lot. This is an issue I have with the yeast sachets rather than the recipe though. I couldn't accurately halve the yeast to reduce the quantity, so I made the full amount.
I made mini doughnuts rather than full sized and half dusted with sugar and half dusted with cinnamon sugar, and both were delicious, especially when still warm. I didn't attempt to pipe the jam into the doughnuts as I thought it would be rather fiddly.
One thing I did notice was that they seemed to go stale quite quickly, whether this is because they're best eaten straight away, or something to do with the flour, but halved, with a bit of whipped cream and jam in the middle, this wasn't a problem!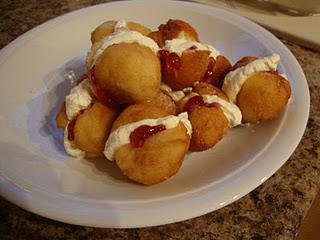 Recipe (taken straight from delicious magazine)
200g strong white bread flour, plus extra for dusting
50g chilled unsalted butter, diced
7g sachet dried fast action yeast
4 tbsp caster sugar
1 medium egg, beaten
100ml whole milk, heated to lukewarm
Sunflower oil for deep frying, plus extra for greasing the bowl
4 tbsp raspberry jam
1. Sift the flour and a pinch of salt into a large bowl, then rub in the butter with your fingertips. Stir through the yeast and 1 tbsp of the sugar, then make a well in the center. Mix the egg with the lukewarm milk and pour into the well. Mix quickly and bring together to make a soft dough.
2. Knead the dough on a lightly floured surface for  minutes or until silky smooth. Put in a very lightly greased bowl, cover with cling film and leave in a warm place for 1 hour or until doubled in size.
3. Dived the dough into 12 evenly sized pieces and shape these into smooth balls. Do this by pinching the dough on top, rolling the bottom on a smooth surface, then turning them over so the pinch is on the bottom. Place them, spaced well apart, on a baking tray lined with baking paper, then loosely cover with a sheet of greased cling film. Leave for 45 minutes in a warm place until doubled in size again.
4. Heat the sunflower oil in a large deep pan to a temperature of 190C. Carefully lower the doughnuts into the hot oil using a slotted spoon, in batches of 2 or 3. Fry for 30 seconds on each side until golden and cooked through. Remove with a slotted spoon and drain on kitchen paper.
5. While the doughnuts are still warm, spoon the jam into a disposable piping bag or sheet of baking paper rolled into a cone. Make a little slit in the side of each doughnut with the tip of a small sharp knife, then squeeze a little jam into the center.
6. Roll the jam-filled doughnuts gently in the remaining caster sugar to coat them completely or dust well using a dredger. Serve warm or allow to cool.