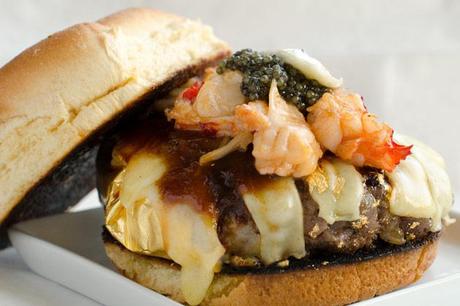 Would you order the aptly named  Douche Burger that costs $666? It sounds like something a Saudi Prince or Bruce Wayne might enjoy for lunch. The burger has all the "rich" ingredients one would need to justify the dollars. Fois gras, truffles, lobster, caviar all piled on top of a beef patty with sheets of gold and ooey gooey cheese finishing off this intense burger. 
The burger hails from New York City and is actually a commentary on the current state of overpriced, gourmet burger movement. Technically, you can order it but the owner of 666 Burger food truck thinks you're probably better off ordering their original $6.66 version. Click on the link above for the fun interview with the owner of the food truck... oh and in case you're curious about what sauce they use to bring all the flavours together... here is a hint... 
"BBQ sauce is made with Kopi Luwak coffee beans that have been pooped out by some sort of animal called the Asian palm civet"
Thanks to social media... the Douche Burger has helped business. No, not because people are lining up to order it. They're lining up to order the original version instead!