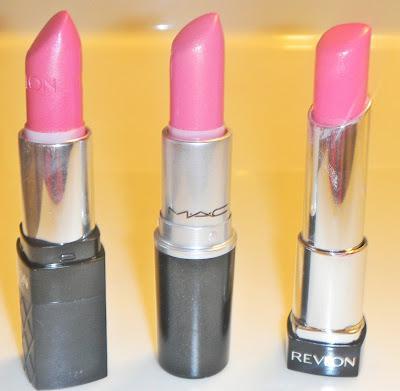 Spring is here and that means it's time to break out our bright lipsticks again!!  One of my favorite spring shades is MAC's Speed Dial, a gorgeous bright mid-tone pink color.
A long time and well known dupe for this shade is Revlon's lipstick in Carnation which is slightly deeper than Speed Dial.  I bought Carnation first because I had been looking into buying Speed Dial for awhile and thought I'd try out the dupe first-  but when I applied Carnation I have to say I was a bit disappointed.  It wears slightly darker than Speed Dial and just wasn't very flattering on my fair skin tone.  So I assumed since this was the dupe, Speed Dial just wasn't for me.  But after many trips to my MAC counter I always found myself picking up and swatching Speed Dial-- and when that happens with a lipstick it's usually a good idea to go ahead and buy it ;) -- so I finally picked it up and it looked so much better on me than Carnation that I haven't touched Carnation since.  While Carnation is not awful for fair skin I do think that if you have darker skin that this dupe will work a little better for you.
Now for the second dupe, Revlon's Lip Butter in Sweet Tart.  On the swatch it doesn't look like it matches too well but on the lips it's very similar to Speed Dial.  This lip butter is a bit more sheer than its lipstick counter parts and it wears as a lighter, slightly more toned-down version of Speed Dial.  This color is flattering on skin tones across the board and I love it because it's a great way to wear a bright lip color in a low maintenance, no-fuss way.

What are your favorite bright lipsticks for Spring?!  Do you like to go all out bright or tone it down a bit?