We knew we were in for a treat- and a little bit of drama- when we walked into our event and had to sign a waiver to be on "The Real Housewives of New York City". Our favorite new addition to the cast Dorinda Medley was co-hosting Malan Breton's window display unveiling at boyfriend John Mahdessian's business Madame Paulette's.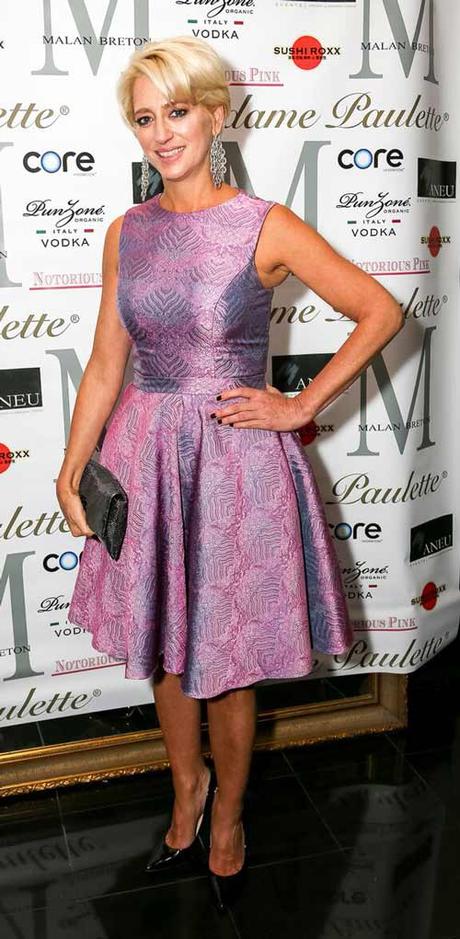 Madame Paulette's is Upper East Side's go-to for all of your tailoring needs and designer Breton actually goes to them himself when needing to put together his couture gowns. Walking in around 6:30pm, Dorinda made her grand entrance looking stunning, wearing a custom Malan Breton couture dress and KMO Paris earings which perfectly complimented the rest of the outfit. Working the room as if each and every single person was an old friends (most of them actually seemed to be), her charm is even more evident in person.
Needing to know more about the how Dorinda ended up being Malan Breton's muse, we talked to the designer himself about it. "Dorinda and I became friends about a year ago and we've become closer and closer because of John and when I thought about this collection, I knew Dorinda had to wear something from it!" We have to say, the beautiful lilac color is an understated one in most wardrobes as it goes well with nearly every skin tone and can be flattering with the right fabric choice.
After some words from the hosts, we all went outside to see the unveiling and it was simply stunning. If we could wear just one of those amazing gowns to any party, we'd consider ourselves lucky! We went back in for a bit to enjoy one more glass of champagne, running into Countess Luann de Lesseps who is also a fan of Breton's whom we overheard praising the couture pieces.
Tune in next season to see the action live and maybe you'll not only see your favorite housewives but this Big City Little Blogger as well!