To be honest, there have been times that I missed some necessities for my international trips, though over time, I've learned to be more organized and mindful of what I need. Based on experience, here's a checklist on what to bring when traveling abroad.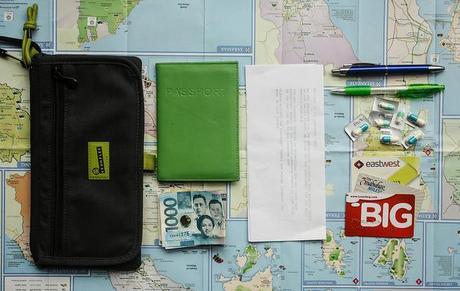 1. Passport. It's of course the most basic among traveling essentials that need not to be even written here. However, I'm listing it anyway to remind those with old passports to upgrade to the new biometric passports at the soonest possible time. More information can be read at the website of the Department of Foreign Affairs here. It would also help to bring photocopies of your passport to bring around when traveling for purposes of identification.
2. Visas. It's another basic requirement, but with us Philippine passport holders, we need visas to a lot of countries, so be sure to check whether you need a visa or not. Note that most ASEAN countries, Hong Kong, and Macau do not require a visa for social visits.
3. Printouts of plane tickets and hotel vouchers. The Philippine Bureau of Immigration and Deportation has already been instructed to accept electronic plane tickets stored on tablets and phones, but it wouldn't hurt to bring printouts just to be sure because the immigration officer of your destination country might need them. Hotel vouchers, on the other hand, must be printed because most hotels, especially the low-end ones, require a physical printout.
4. Money for travel tax and terminal fee. Do not forget to have enough Philippine pesos to pay for terminal fee at the airport, which is mandatory for everyone. International terminal fee at Manila, Clark, and Cebu is pegged at 550 PHP. Meanwhile, the travel tax is usually not included in the ticket, and while some are exempt from paying, almost all Filipino tourists need to give up a hefty 1620 PHP. More information about travel tax can be read here.
5. School or office ID. Our immigration agents often ask outbound Filipino tourists for a school or office ID to prove enrollment or employment. I've usually been requested for my ID before, but since I've been traveling abroad a lot, they don't ask for it anymore.
6. A pen. It's one of the things I frequently forget to bring, and I often have to borrow from strangers. It's most useful when filling out arrival immigration cards, so bring one for yourself and another one in case a stranger asks you.
7. A prepaid or debit card and a credit card. It's convenient to travel with a globally-accepted prepaid or debit card because there are times that there are no money changers, only ATMs. Further, you can make purchases with it on a competitive exchange rate. Read more about traveling with a debit or prepaid card here. Credit cards, on the other hand, are usually required by midrange to high-end hotels for security deposit, so bring if you have.
8. Travel insurance. A lot of people uncheck the insurance option whenever they book their flights, but it's something that should strongly be considered when traveling abroad because sudden bouts of illness while traveling do happen. Plus, healthcare in other countries can get really costly. Be sure to print a copy of your insurance policy or coverage that likewise indicates emergency helplines. Read more about my article on travel insurance here.
9. Medicines. I'm not a sickly person, but I always bring necessary medicines whenever I go abroad for the reason that I might have a hard time finding them or worse, they're not available in my destination country. I always have a reasonable stock of antihistamines (cetirizine), antidiarrheal (loperamide), painkillers (mefenamic acid), analgesics (paracetamol and ibuprofen), and of course, vitamins, among others.
10. A travel wallet. I admit I'm a disorganized person, and it relieves me that I can keep all these essentials into the Crumpler Low Level Aviator Travel Wallet. It has four storage zones: the main zippered pocket is where I put my wallet, phones, lip balm, and medicine; the front zippered pocket is where I keep tickets and gift certificates; and the two slip pockets are where I place my passport, boarding passes, printouts, and pen.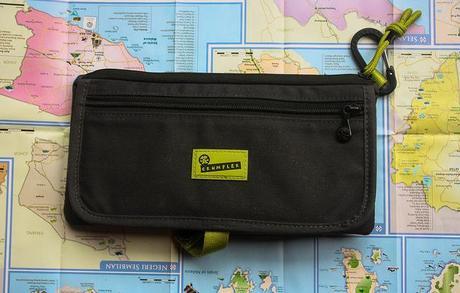 What I like about it really is that it makes my life at the airport easier. Whenever I find myself running because I'm almost late for a flight, I would just place all important stuff inside, my phones included, and fling it through the x-ray. Everything I need are organized inside, so I don't have to rummage for stuff I need from my bag anymore.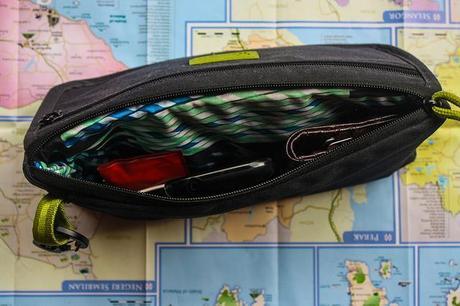 It's sturdy because it's made of a strong and lightweight polyester field twill, while inside is a high-quality nylon lining. I find the backing board in the front convenient when I need to fill out a form, and the detachable carabineer allows me to hang it on my bag.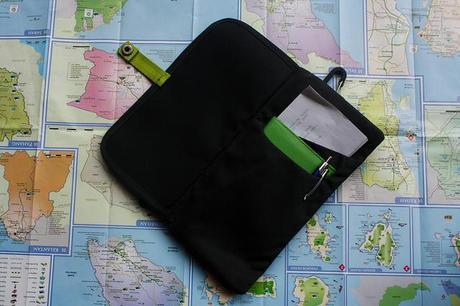 International travel is obviously more complex than domestic, and it can get stressful starting at the airport. It does pay to be prepared with all essentials above, but I learned that it's vital to be organized too. With my Crumpler Low Level Aviator Travel Wallet, the process at the airport feels less hectic than it used to be, and I'm traveling a notch better now.
The Crumpler Low Level Aviator Travel Wallet is available at Crumpler stores in Shangri-La Plaza, Robinsons Magnolia, TriNoma, and Bonifacio High Street. Follow Crumpler Philippines on Facebook, Twitter, and Instagram for exciting promos and updates.