Operatoonity.com review: Don Giovanni presented by Opera Philadelphia
Live performance: April 27, 2014
Academy of Music, Philadelphia, PA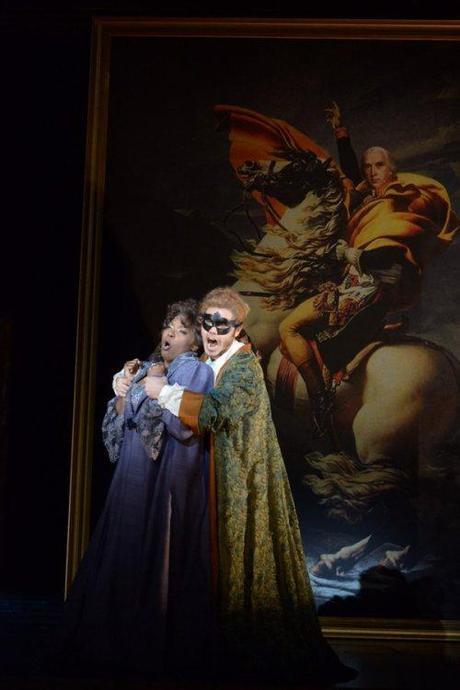 Elliot Madore as Don Giovanni and Michelle Johnson as Donna Anna in DON
GIOVANNI at the Academy of Music | Photo by Kelly and Massa
During Opera Philadelphia's new production of Don Giovanni, the performers made the grade. Unfortunately, the artistic direction pulled down the class average. Performers = A.  Direction = C. Final grade = B.
An opera is without a doubt music and is nothing when the music is wrong. At the same time, opera must be more than music. Though the period costumes shone and the lighting proved atmospheric, the direction was, well, sloppy. It lacked a clear vision, almost as if it didn't know what kind of production it wanted to be or why.
I'm not anti-regie, not in the least. I've seen an experimental version of Don Giovanni directed by Christopher Alden at New York City Opera and adored it. It was twisted and irreverent but exceedingly carefully and consistent in its execution. Though there were bright and beautiful moments in this production, Nicholas Muni's direction lapsed into the nonsensical at times, particularly in Act II, when the storytelling needs to be crisp and powerful enough to drive the audience to accept Don Giovanni's horrific demise. For instance, instead of embarking on a manhunt for Don Giovanni, the characters plumbed their innermost feelings. Then the infamous banquet scene took place in a crypt. Since there were numerous details well attended in Act I, the failure to remove the Commendatore's mausoleum from the stage for the finale simply confounded this reviewer.
Don Giovanni is a great opera that merits greatness. Producing it is a grave responsibility (pun wholly intended). Seriously folks, doing Don G. nearly warrants the creation of a contract with the audience that a company will do no harm. I was quite disturbed through the first scene of Act I because the overture was too leisurely and almost plodding as it lumbered into Leporello's first stage appearance. If the tortured pace of the overture weren't enough to dampen expectations, most of the singers struggled to be heard over a too-loud orchestra initially. Though there were rich voices onstage, they were not particularly big ones except for tenor David Portillo, who possessed plenty of ping.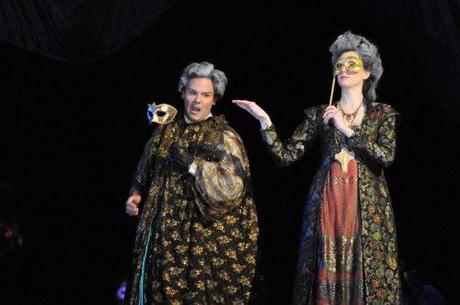 – David Portillo as Don Ottavio and Amanda Majeski as Donna Elvira in DON
GIOVANNI at the Academy of Music | photo by Kelly and Massa
Usually Don Ottavio is sung by a guy my age, well past his prime, with a *very* mature sound and a milquetoast presence. It was, therefore, such a pleasure seeing a young man sing Don Ottavio for a change, one who is believable when he expresses his deeply felt frustration from being denied love and intimacy with his beloved Donna Anna and whose long-suffering adoration is palpable. Portillo's voice was strong and beautiful and more nuanced than any Don Ottavio I've ever heard, earning him an A+ in my book.
Another A+ performance was turned in by lyric soprano Amanda Majeski as Donna Elvira. Her voice has been tauted as possessing a silvery beauty, and indeed it does. The power and beauty of her tone found ample expression as the scorned Elvira and soared above the occasionally too-loud orchestra and lasered itself directly into the audience's heart. I hope to see her again very soon.
As Donna Anna, soprano Michelle Johnson was warmly received by Philly audiences who have loved her for past performances at Opera Phila and the Academy of Vocal Arts (AVA). Sadly, she almost seemed overwhelmed by the singing required in the role of the woman Don Giovanni seeks to ravage. Johnson lacked the requisite intonation and technique to sing Mozart, seeming way out of her element, despite evocative acting skills.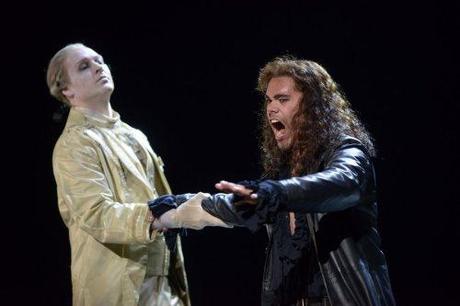 – David Portillo as Don Ottavio and Amanda Majeski as Donna Elvira in DON
GIOVANNI at the Academy of Music |photo by Kelly and Massa
As the rake himself, baritone Elliot Madore's performance brought the audience to its feet at curtain call. That might have been because he was tasked to play a Giovanni beyond redemption, one whose need is nearly pathological, a need that forces him to couple with old women, fat women, and even smelly homeless women. Madore had exceptional acting skills and plenty of swagger. However, his voice lacked sufficient power to be heard over the too-boisterous orchestra at times. That being said, through the delivery of Giovanni's "Champagne Aria," Madore proved himself a  master of precision. I would love to see Madore perform with stronger direction and a real chance to sing with a controlled orchestra. (Try Glimmerglass Festival, Elliot!)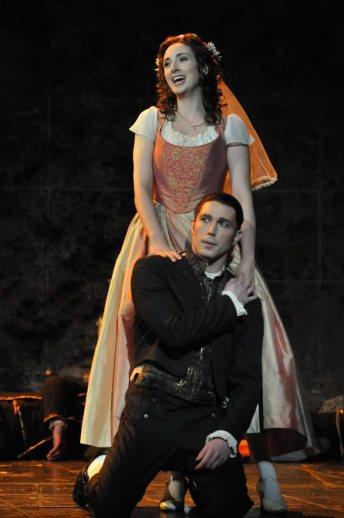 Wes Mason as Masetto and Cecilia Hall as Zerlina in DON GIOVANNI at the
Academy of Music |photo by Kelly and Massa
The roles of Zerlina and Masetto were performed and sung well, with Wes Mason as Masetto edging out Cecelia Hall's performance as Zerlina. Mason was ideal as the tortured groom, outclassed and outfoxed by a conniving, sociopathic cavaliere. Mason was funny and charismatic as the wounded  hours-old husband of a nearly faithless bride. Hall sang beautifully but lacked an essential sensuality as Zerlina. It's understandable when a country girl  becomes conflicted and is tempted to stray when seduced by a gentleman. I wanted Hall to succumb to either her boorish husband or her manipulative seducer with abandon, but much to my chagrin, neither happened.
Joseph Barron was a sturdy and entertaining Leporello. But the role gets loads of show-stealing assistance from both the score and the libretto. All Leporellos take advantage of this largesse though Barron, unfortunately, didn't seize the opportunity to be a Leporello for the ages.
Despite this reviewer's perceptions of its artistic limitations. the matinee audience gave the show a standing ovation–well deserved by the performers but an unearned gratuity for the director.