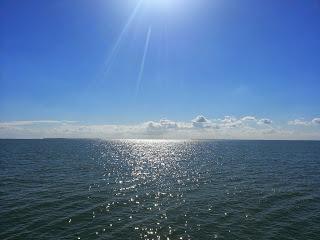 Afternoon on the Bay of Biscay
Click on the photos to see larger versions.
Life has really taken a strange and interesting turn. If you travel enough and leave yourself open to adventure, sooner or later things will happen. "Luck" usually involves hard work and perseverance, not just stumbling into good fortune.
Case in point, last Friday my wife and I were sitting in a boat, watching the last Olympic sailing trials in La Rochelle. We were surrounded by local business leaders, all of this paid for courtesy of La Rochelle and the local area governments.
When we decided to leave Paris, it was our flat being robbed that finally pushed us over the edge. We hadn't actually settled on where we were going to move, but La Rochelle looked like the likely candidate. Bordeaux and other areas were promising, but a friend of ours who lives near hear and runs Archimedox (sort of a "Google for doctors"), arranged for us to meet people in the local government who work very hard to attract business to La Rochelle.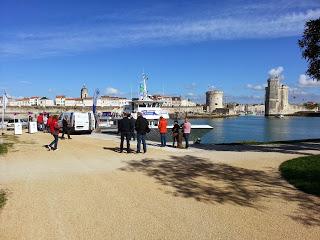 Waiting to board.
When we met them, after they talked with us and realized that we had a serious, profitable business, they discussed with us various incentives to get us to move to La Rochelle as opposed to other destinations. These included possible loans (if we guaranteed to stay here at least three years), subsidized office space and/or an intern whose salary would be partially covered by the region.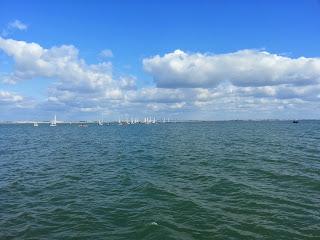 Boats gathering for the start of the race.
We've not taken them up on any of these offers, but that doesn't mean we won't in the future. We're currently running All Around The World out of our home, but it's getting to the point where we need to hire employees (we're already trying to hire our first one) and start doing more aggressive marketing. Knowing that we have the option of obtaining help from the local council is a blessing.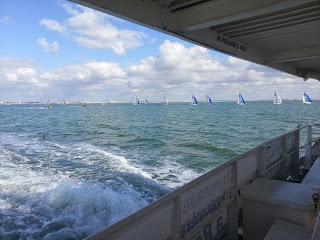 And the race is on!
So when we received an invitation from the city to join them for a day on a boat to watch the Olympic trials, I was surprised that the region arranges outings like this, but I wasn't surprised that they included us as part of their effort to promote local businesses. It was a perfect opportunity for networking, or would have been had Leïla not been terribly sick. She mostly sat there saying nothing, hoping for it to end. That's a damned shame as ordinarily she loves things like this.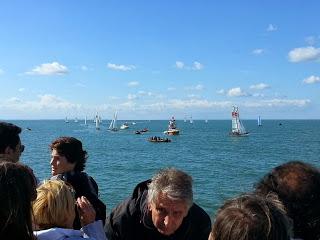 A couple of our local friends are in the left of this shot.
We were their with our new friends Jean-Marc Longtier and his partner, Renée Robillard who, despite her name, is American, not French. Renée had been a reader of this blog and when we first visited here, she invited us to meet them. Jean-Marc, it turns out, is a computer scientist who does a lot of interesting work in areas that I'm also fascinated by.
Quelle coincidence!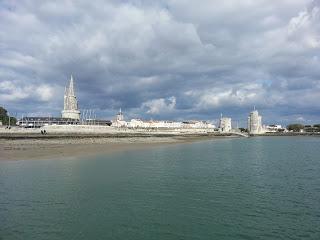 Returning to La Rochelle and the vieux port.
After a lovely couple of hours on the waters of the Bay of Biscay, watching the races and snacking, we returned back to the port and made our way home. It turns out that events like this occur rather regularly. I'm looking forward to them.
Meanwhile, Jean-Marc, Renée, my wife and myself have had all sorts of interesting ideas that might help the local area attract more businesses. Leïla has been invited to give a talk to local businesses about expat issues and we've all been thinking that recreating Startup Chile in La Rochelle would be wonderful.
This might be a very interesting adventure.