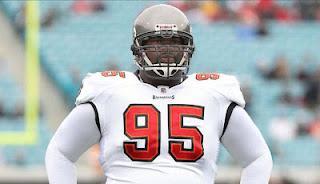 Photo: US Presswire - Kim Klement
- Troy Ballard 
It really shouldn't come as any surprise that the Tampa Bay Buccaneers released Albert Haynesworth, as he was nothing more than a fill-in for the injured Gerald McCoy, but now that he's back on the free agency market, will any other NFL teams bite?
Do we all remember when Haynesworth was the premiere defensive tackle in the NFL? It wasn't really all too long ago that he was destroying offensive lines in Tennessee, and then signing that whopping $100 million contract with the Washington Redskins. Of course, since signing that contract, Haynesworth has found himself to be in a series of conundrums that he could have never predicted coming.
It started with being out of shape at practice in Washington. Mike Shanahan didn't care that he was the premiere free agency signing, or that he was making $100 million, he benched him until he could get back into a football-ready condition.
This immediately led to Haynesworth throwing a tantrum like a five-year old, souring relations in Washington from the first practice. Things continued to escalate between Haynesworth and the Redskins, (and fast-forwarding the story line here), he ended up being dealt to the New England Patriots for almost nothing in return.
Now, most would think that being traded off of a rebuilding team and onto one that is in immediate contention for a Super Bowl could turn any player's attitude and performance around. However, this was not what happened with Haynesworth, and he was largely ineffective for New England in his limited playing time.
After being nothing but dead-weight for the Patriots, half-way through the season, they released him to the waiver-wire. Most thought he would slip right through, and would land back in free agency. But instead, the Buccaneers plucked him up to take up space after their starting defensive tackle suffered a season ending injury.
Once again, after being released by Tampa Bay following the season, Haynesworth is back in free agency. The last time he was here, he was coming off an amazing year and had nearly every team interested in his services. This time around, the complexion has changed mightily, and Haynesworth may be lucky to find any team at all.
The popular vote would be to write-off Haynesworth and call his career over in the NFL. His lack of effort on the field and attitude problems have plagued his future and no team will want to take a chance on him, right?
Wrong.
I actually think that there will still be several teams that are interested in his services. By no means will he be pushed directly into a starting role, and he won't be making much money, but there will be some teams that give him a call.
Defensive line talent in the NFL is at a premium, and depth is equally important. Even though Haynesworth's career has taken a serious nose-dive, he could still place a key role in a defense lacking depth and veteran presence on the defensive line.
Even though Haynesworth may not be anywhere near as valuable as he was, there are still teams in the NFL that could use his services. His work ethic and motivation have raised eyebrows, but he might just have to get back into the right situation and everything will fall into place for the once elite defensive tackle.
Be sure to follow Beard and Stache on Twitter @BeardAndStache, and also Troy @TroyBallards, Like our Facebook page HERE!