Digital Marketing Training for Rwenzori-based tourism businesses.
Sign up for a four-day programme of Digital Marketing Training with Diary of a Muzungu + the Rwenzori Tourism Academy + Adventure Tourism Uganda 
Read more about this limited offer Digital Marketing Training scheduled for August 2020 in Fort Portal.
Who is the training aimed at?
This training is meant for decision-makers at tourism companies in the Rwenzori region, who are fully committed to improve the online presence of their company to attract more customers.
Would you like to learn how your company can attract more guests through its website, social media and booking sites? Would you like to improve your online communication and Search Engine Optimisation? Topics we will cover include: Facebook Business Pages, Instagram, Twitter, video marketing, blogging, email marketing, TripAdvisor and Booking.com
The 'hands-on' training will consist of four full days: August 13th and 14th, followed by another two days on August 27th and 28th (and some homework in the week between). You will benefit by receiving an (informal) certificate, a month's online support post-training, as well as the networking opportunities during the training. A limited number of companies can participate and the selection is made based on your answers in this intake form.
Dates: August 13-14th and 27-28th (you must commit to attending ALL training dates).
Location: Kalya Courts, Fort Portal * COVID-19 safety measures will be respected.*
Participation fee: 100,000 ugx per person for the full training (including lunch). Fees must be paid in advance.
For more information about the 4 days Rwenzori training, please contact Komuhendo Violet on 0774 056 769 or 

[email protected]

or submit your application using the link above.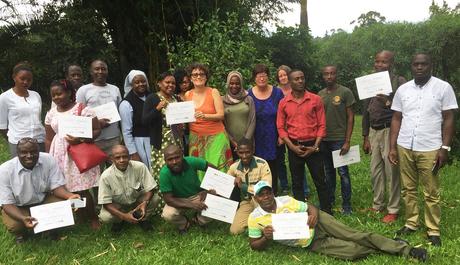 Diary of a Muzungu's first regional training workshop took place at RuwenZori View Guesthouse Fort Portal. Subsequent workshops have been held in Kampala
For any other training enquiry, please contact me – Charlotte – directly. Online meetings and in-house training options are also available.