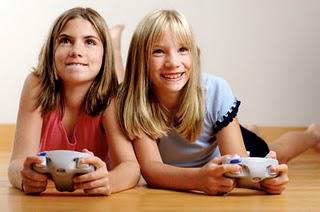 *Shoots zombie in the face* Teeheehee...
Since the time
video games were invented
- even before graphics were what they are today, showing magical lands, spaceships and yes, I'll admit, blood and gore in crystalline quality - concerned parents have pegged violent behavior in children as a direct correlation to the types of video games they play. If Jimmy is acting out in class the immediate question isn't "how did his parents raise him?" but "what sort of influences is he getting at home? Is he playing violent video games?"
These days parents are quick to penalize games that contain violence and gore, but they almost never want to accept that if a child's morals are already in tact, it doesn't
matter
if they're blowing up a zombie with a 12-foot bazooka. By the time a child is able to hold and maneuver a video game controller, he or she should
without a doubt
be able to discern what's truth and what's fiction, what's right and what's wrong. I implore the nation to stop using violent games as a scapegoat for bad parenting, and start bringing up children with enough moral fiber to know the difference between violence on a TV screen, and violence in real life.
Whenever I hear a parent or news anchor go on a tirade about video games being a major factor that drives children to behave violently, I get personally offended. My older brother and I have been playing games like
Resident Evil
for years (i.e. your objective is to survive a zombie-ridden world using as much artillery as possible), but we're still fine, upstanding citizens. That being said, I know firsthand that aggressive games do
not
have a negative affect on all children. There may be a case here and there of a child lashing out and replicating something he or she saw in a video game, but children can mimic violence from
any
source: movies, television, websites, real life. Violence is
everywhere
, and while it's extremely unfortunate that our society is so desensitized to it, violence isn't going to disappear anytime soon.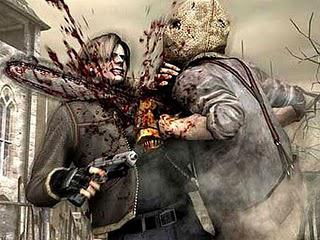 Oh Leon, when will you ever learn...
Should we lock our kids away in a dark, dank basement with nothing but a few chunks of bread and a stack of
Mr. Rogers
tapes? Or should we
teach
them the difference between right and wrong - the difference between what's acceptable in the realm of videogames, and what's acceptable in real life - before they get into the Big Bad World so they can make good choices for themselves?
Blaming violent video games for a child's misbehavior is the sorriest excuse for bad parenting I've ever heard. A person is not going to go out, beat up a stranger, steal his car and commence to wreak havoc simply because they saw it in a video game. If a person is being physically or verbally abusive it's because they have some underlying problems that have never been dealt with properly.
They say that our parents are our first teachers, and that's absolutely true. We may change as we start experiencing the world and accepting new people into our lives, but our morals - set in stone by our parents - almost never change. If we were taught to be compassionate and respectful, guess what? That's what we're going to be. But on the opposite end of the spectrum, if we're brought up watching Mom and Dad duke it out every night and thinking that's
okay
, we're going to have some serious problems. If parents are at all confident in the caliber to which they raised their children, they won't have to blame video games for petty reasons.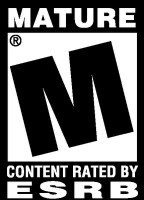 Saying that graphic video games cause violence in
all
children is the same as saying
all
elderly people drive like slugs, or that
all
blondes have to take their shoes off in order to count to twenty. It's a ridiculous stereotype.
Regardless of what has been found in labs or through critical analysis, scientists will never be able to say
for sure
that video games heighten aggression in all children, so we need to stop calling parents into question when they allow their kids to play these types of games. As long as they've instilled certain values into their children - like kindness, respect, and good judgment - it shouldn't matter. By the same token, if parents have such a problem with M-rated games I propose a radical, ground-breaking solution:
keep them out of your house! Don't let your precious angels play them if you think they'll corrupt their character!
But please, don't go around blaming video games for our country's problems. Because honestly? Parents who waste time playing the blame-game instead of nurturing their children are the
real
menace to society._____________________________
After some thought, I'd like to add that the "degree" of violence in video games is another issue entirely. For example, I play games where the extent of the violence is knocking the head off a zombie with a chainsaw. Some games, however, take it to the next level by torturing
humans
. I've don't usually play games like that. They make me uncomfortable, and I'd be a bit wary allowing my kids to play something so graphic. I guess what I'm saying is, my original argument makes it sound as though I'm advocating violence, but that's not quite it. Parents have a right to choose what their kids should and should not be exposed to, but if their children misbehave they shouldn't blame video games alone. Get what I'm sayin'?