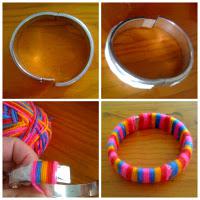 It's no secret that toddlers and jewelry don't mix that well; they snatch at dangling earrings, tug at pendant necklaces, say "me wear" for beads and bangles... if you do relinquish your treasures to them, you might as well say good-bye... I know they don't mean to do harm; they just do!
No surprises then that a favourite, I thought indestructible metal bangle that my mother gave me, lasted only a short while in their care before it got caught in a closing door and the side seam opened up.  I tried to keep wearing it, but the little crack snagged on clothes and pulled on invisible arm-hairs; ouch.
Time to get crafty.  Having coveted woolen bangles for some time now, I finally had the impetus to make one of my own.  Time-poor as always, I was trying to think of an easy way to make one without having to tie off lots of different colours of wool.  Late one night, or early one morning, (who ever knows the difference when you're patting a toddler back to sleep), I remembered I had a roll of multi-coloured wool, and had an ah-ha moment.
So here's my no fuss wool bangle tutorial;
Place double sided tape all the way around the bangle.
Starting at the open end of a hinged bangle (or anywhere if you have a closed bangle) push the wool against the tape at a slight angle, then wrap around it.
Keep winding the wool all the way around the bangle.
When you reach the end cut the wool a little long.
Using a timber kebab skewer, pin, etc, tuck the end of the wool in and behind the looped wool (on the inside of the bangle.)
I've been wearing mine for about a month, and so far, it's held together... and no... the girls' haven't had a go yet!!
I think the woolen bangle could be a great party-craft for any girlie party; fairies, princess, ballerinas.  Just try to look for a wool color to suit.
For more "costume" ideas pop across to my themed-party craft ebook website and have a look at the gallery images.