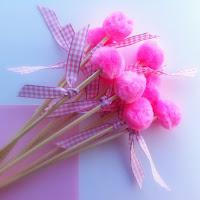 It's no secret that many party books show swizzle sticks in drinks.  I'm not convinced they're very practical, especially for children's parties where they're only swizzling cordial through water... but they DO look great.
I saw a picture recently of some very pretty swizzle sticks with short ribbons on the end.  The ribbon ends were cut with a missing triangle, so they looked like tiny flags fluttering on the miniature masts of invisible boats hidden amongst icebergs on a mint-tea sea... what a perfect party decoration for a sublime sea-side theme!
While wondering if there was anything I could do to add to the idea my eyes fell upon a big bag of pom-poms... perfect!  Using a small strip of double-sided tape, I tied the ribbons in place first, then added a small pink pom-pom on the end, and they're ready to go.
Lotti turns 3 in a few weeks... ok, many weeks... and I've started experimenting with ideas for her birthday party, at the same time as I'm excitedly building up images for Baby Shower and Easter party planning and rainy day craft ebooks.
When coloured correctly, DIY swizzle sticks with pom-poms would be perfect for almost any party theme
.  Imagine bright red 'clown-nose' balls with multicoloured ribbons for a circus party.  All pink is just right for princesses and ballerinas, or a warm and fuzzy baby shower.  Beautiful blues, gorgeous greens, even sunny-yellow all conjour up a multitude of possibilities for me... hmmm... I do so love party planning!