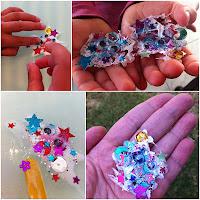 It's no secret that we all get sick.  Some of us just seem to get more sick than others.  That's me at the moment.  I'm not a moaner and groaner by nature.  But.  Groooooan.  I'm sick of being sick!  If it's not the flu it's a migraine, if it's not that it's a sore eye, and then it's the flu again... Argh!
Anyway.  There's plenty of people way worse than me, that's a fact.  If you noticed I was missing in action, it's because I've been sick, sick, sick... but I'm back.  For today.  Then I'm off for school holidays.  Sigh.  I'm happy but it's hard being home with little kids when you're ill.
Chin up buttercup.  To craft; my sanity saviour!  The other day the girls and I saw a thing on TV and we all three went; "we gotta try that."  Our version ended up a little different to theirs but here's what we did....
To make a Splat Bug you'll need:
Gloopy glue (elmers glue / PVA glue / runny white school glue - call it what you will).
Googly eyes.
Sequins and glitter.
Baking paper (we tried it on the dining room table first - big mistake; it was impossible to peel the bug off later).
A disposable craft stick / paddle pop / icicle stick (again, different countries call them different things) to spread the glue out. 
To make a splat bug you need to:
Cut a small piece of baking paper per child.
Squeeze a medium sized blob of glue per child onto the paper.
Use a craft stick to push the glue into a 'splat' shape - you want it to be spread out so that it's thin at the edges, but keep some thickness at the center.
In the middle of the splat put two googly eyes.
Over the whole thing sprinkle some glitter and sequins.
Leave for a few hours to dry (boring I know - sorry!)
When the splat is dry (you can tell by touching underneath the paper; if it's still wet the glue in the middle will feel wet and cold through the paper), flex the paper and the splat bug will pop off.
Once your splat bug is free you can take it outside to play, put it on different surfaces and splat it with fly-swatters, your hand, scare friends, decorate books, and so on... okay, so it's not your ordinary house fly; but then who the heck wants to willingly make one of those for their window sill?
Okay then; enjoy back to school month or school holidays; depending on where you are in the world; I'm off to pack bags and get some sleep... and generally well, feel like a splat bug.
See you in a week... or so...
Linda.