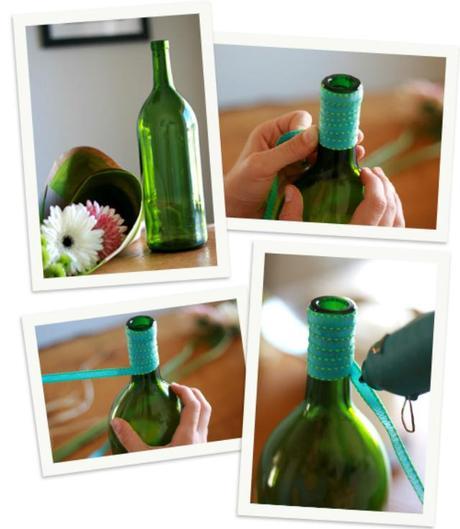 Images from the ONEHOPE Weddings Blog
Design doesn't always have to be complicated or unattainable. In fact, most of my DIY attempts have been inspired by whatever random materials I happen to have in the house; so I decided to take on another project and share how easy it is to make a colorful ribbon-wrapped vase. Luckily with this craft, the wine bottle can be ugly-as-heck and doesn't need to be scrubbed clean of any labeling or residue (hip hip, hooray)! The ribbon was from a previous project in my storage closet, the hot glue gun borrowed (I know, I really should have one by now) and I topped off the display with some colorful gerber daisies from the flower shop.
I began by wrapping the ribbon along the mouth of the bottle in a tight, downward spiral with hot glue on the underside; pressing quickly as I went along (above). About a third of the way down, I switched gears and added a different color (novice crafter confession: I started to run out of blue ribbon, and decided to save some for the rest of the bottle – so here's to improvising)! I also began to get frustrated when the ribbon didn't lay perfectly flush with the curve of the glass, but in the end, it wasn't a big deal and I fell in love with my little creation. It looked homemade and cheery – a lot like the flowers that accompanied them!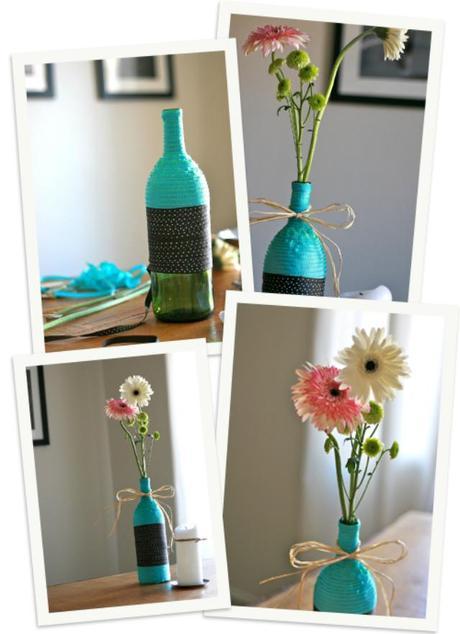 See my other DIY's in the Tuesday Tutorials column of the ONEHOPE Weddings blog here.