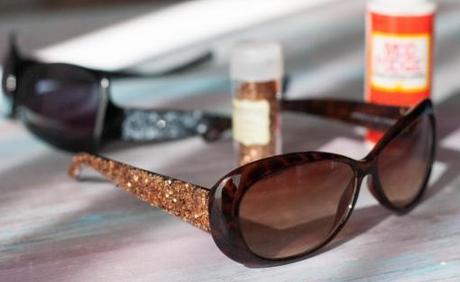 DIY Glitter Sunglasses
I have a little bit of an obsession with glitter. It isn't like I use it all the time, but I have this weird desire when I see it. I need to get my hands on it and own it. Sort of the same way I am about books and paint. It took me a long time to fall in love with the library because every time I wanted a book, I wanted to own it, not just borrow it. I'm over that now. But when I see glitter I have to possess it. So to help ease my obsession I decided to make some DIY Glitter Sunglasses.
How to Make DIY Glitter Sunglasses
The formula is simple. Find yourself some cheap sunglasses you like. I got mine at Target for about $8.00. Then get yourself some fun, sparkly glitter. I couldn't resist this pack of twelve chunky glitters from Recollections. For this project I opted for the copper color on the tortoise shell glasses and Ebony on the black glasses. Lastly you need some Modge Podge and a small paint brush to apply the Modge Podge. I used Mod Podge Gloss
for this project. DO NOT use the Matte Modge Podge as it will dull the glitter.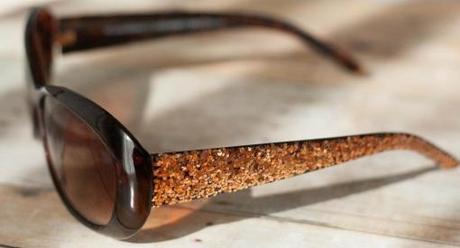 DIY Glitter Sunglasses
Print
DIY Glitter Sunglasses   Ingredients
sunglasses
Modge Podge gloss
paint brush
glitter
sanding block
Instructions
Using the paint brush apply a light layer of the Modge Podge to the outside ear pieces of the sunglasses.
While the Modge Podge is wet, sprinkle the glitter over the entire area.
Allow to air dry.
Once dry, apply another thin layer of the Modge Podge to the top of the glitter to seal it and keep the glitter from falling off.
Allow to dry completely.
Check the underside of the ear pieces for glitter and use the sanding block to sand it away so it does not irritate your ears.
WordPress Recipe Plugin by

EasyRecipe
3.1.09