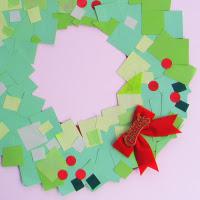 It's no secret that Christmas isn't complete without a wreath.  Hung on the front door, over the mantelpiece, close to the tree, or worn around your wrist as a
woolen bangle
, it 's a potent symbol of the festive spirit.  There are so many beautiful blog-posts and how-tos about Christmas wreaths, in all manner of materials, that it's really just a matter of selecting the material you want to work with and devising a wreath to suit, and perhaps hardest of all; finding the time to make it!
My most favorite material to craft with is paper, so last year I made a quick paper wreath to decorate our entry with.  You basically follow the same how-to as outlined in my colour-wheel tutorial, but substitute the rainbow shades for different hues of green, add a few spotty-dot stickers for berries, and a Christmas bow to complete.
This year the wreath is stuck onto a framed piece of Mimi's artwork, on the wall beside the tree (you can see it in the photo from yesterday's post.)  Bells, buttons, and any other mixed-medium materials would also suit this craft to give it some added depth and interest.  It's a loose enough craft that young children could participate in it's creation, so long as you pre-cut the paper.
Feel free to pop down to the
 comments section and add links to your wreath tutorials (I know lots of you have them!) so others can get some inspiration, and don't forget to vote what material makes the prefect Christmas tree - the poll is just right of this post!