This is my final post in my 'Heart' series for the month of February. Since I had a bunch of left over from the post I did at the beginning of the month, I decided to make an easy wooden DIY heart bird feeder to peg them on. It's the easiest bird feeder you will ever make!
This wood heart from Michael's was $4.99, but I used my 50% off coupon, so it only cost me around $2.50!
I have a cheap wood burning tool that has come in handy for various projects. It's always good to have one in the craft cupboard.

If your in need of one, I sourced out an inexpensive set on Amazon. I'll make a small fee if you chose to buy it through the affiliate link below. That helps me keep this site running and buy supplies for cool projects like this...thank you!
The birds were drawn on first using a stencil. I just traced it through pressing down hard on my pencil and used the imprint on the wood as my guide for my wood burning tool. I also burned around the edges to give the heart more definition.
After that I just used a antiquing medium mixed with a little brown paint to darken up the wood. To create a way to hang it, I used a little piece of twine tied into a loop and fastened it to the back just above the knot with a staple gun.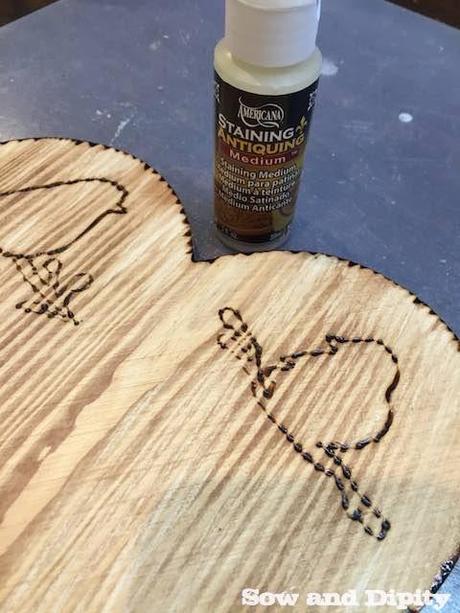 A skinny dowel was used to create the peg and perch for the birdseed cake. I drilled a hole then used a dab of wood glue on the end of the dowel to make sure it stayed in place once inserted into the hole.
Once that was dry, it was time to place a birdseed cake on the peg and go find a tree or trellis to hang it on.
The birdseed cake recipe I used for this project is from my other post on Birdseed Cakes and Berry Hearts. This recipe makes a lot so you will have plenty of replacement cakes to put on your DIY Birdseed Cake Holder.
The birds discovered it in no time and were enjoying their free meal. It makes my heart happy to see they love the heart I made for them.
Peace Love Garden