Dear Diary,
I thought this day would never come. It is not that I came to Orlando because I wanted to see Mickey Mouse or something. It is just that The Dream of my childhood was about to come true. Well, to be frank, I had never dreamt about it. I always knew my family wouldn't be able to afford it.
And now me and Moli, a friend of mine, were at this airport calling to a person who was supposed to give us a ride to the Hotel.
We booked the tickets online, as well as a whole trip. We got pretty cheap tickets. The guy who picked us up had the weirdest accent. He said we can choose one of the Disney Parks (that was the deal) and the Sea World Park. We picked Magic Kingdom.
We arrived to the hotel. Even though the hotel room was pretty good (nice beds, nice bathroom, hair dryer, refrigerator, huge mirror over the sink and a good tv), it didn't cost us much.
We were hungry and figured we should go buy something to eat (we were going to stay in the hotel for 4 days). We bought some milk, cookies and stuff. Then we thought we'd walk around. It was September, but it was still insanely hot. We took a few pictures, went downtown and had something to eat. The city looked calm and peaceful. If it wasn't so hot, I'd call it paradise.
We came back to the hotel at 6 p. m., and I fell asleep right away. I worked pretty hard the whole summer and didn't even remember when the last time I had 4 days off was.
I slept for 12 hours, and when I woke up we had a nice healthy meal downstairs and headed to The Magic Kingdom. On the way there I couldn't take my eyes off the road, buildings and palm. When we finally arrived, we caught an air train to the place, and then the boat. My mind, my soul and my body were in peace, it was the most horrible summer I ever had: I was exhausted, heartbroken and betrayed. Being in WDW made me feel like that all is actually in the past and I am in the whole new world.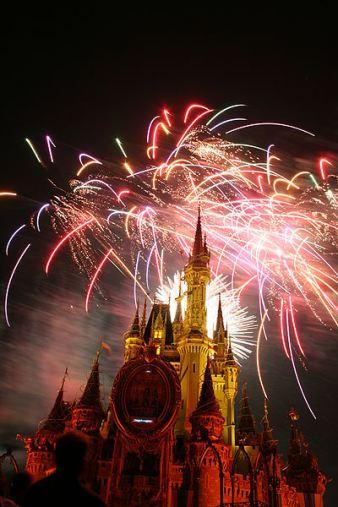 I enjoyed the Ghost Castle. I don't remember if it was the actual name of the ride. And the Peter Pan Island, and the sweet houses, it was wonderful.
When we came back in a cool hotel after the hot exhausting day, we watched a little TV and went to bed. The next day we visited The Sea World. It was only ok, but I loved the rides.
We had to leave the next day so we made time to go and swim in the pool downstairs. Surprisingly, there was no one there. Maybe all the customers were enjoying sightseeing or something.
I really didn't want to leave the next day, but we had to. The flight back was fine. I was happy i got to see WDW.