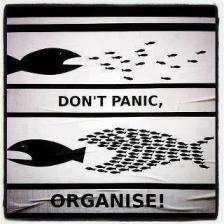 You may remember the Disney "Habit Heroes" debacle – a "ride" where bad habits were represented by fat people who kids defeated with the help of "Will Power" and "Callie Stenics" and the character played by the kids started out as a fat kid who got progressively skinnier as the game progressed.  In short, it was an unmitigated disaster.  The readers of this blog were part of a successful protest that lead to Disney closing the attraction for revamping.
The ride is now revamped and re-opened. The bad habits are now represented by cartoon icons – like flames to represent dehydration, Will and Callie are gone, as is the shrinking kid. Participants now work with Director Jin and her agents Fuel, Quench and Dynamo to fight bad habits with fruits and vegetables, activity, and water.
I see this as proof not only that activism works and that people are capable of hearing our message, but that it is possible to talk to kid's about healthy habits in a way that makes it fun, and doesn't shame kids for their bodies.
If you get a chance and want to thank Disney, you can shoot them an e-mail at [email protected]
While I'm doing updates, people of all sizes, ages, and fitness levels have pooled their miles and minutes of activities and the Fit Fatties Across America effort has reached Parachute, Colorado.  You can add your miles and or minutes of activity to help us get to Los Angeles…then see what happens next.  Check it out at the Fit Fatties Forum!
The Size Diversity Task Force's project to create a Guinness World Record paper mache sculpture entirely out of pages from diet books is off to a big start.  Thanks to donations of books and money from around the world, including a big donation from Brenda Oelbaum, we have over 14,000 pages so far.  If this project strikes your fancy,  there are lots of ways to participate – even if you don't have diet books to donate.  (And hey – you can also join the Size Diversity Task Force  – a member-run organization that advocates for equal rights and social justice for people of all sizes, weights, shapes, and abilities and believes that everyone has something to offer.)  Check it all out at www.sizediversitytaskforce.org
Like the blog?  Here's more of my stuff:
The Book:  Fat:  The Owner's Manual  The E-Book is Name Your Own Price! Click here for details
The Dance Class DVDs:  Buy the Dance Class DVDs (hint:  Free shipping was supposed to end on Monday but I haven't had a chance to make the changes to the pricing so there's still free shipping until I get it done)!  Click here for the details
Become a Member, Support My Projects, and Get Special Deals from Size Positive Businesses
I do size acceptance activism full time.  A lot what I do, like answering over 4,000 e-mails from readers each month, giving talks to groups who can't afford to pay, and running projects like the Georgia Billboard Campaign etc. is unpaid, so I created a membership program so that people who read the blog and feel they get value out of it and want to  support the work I do can become members for ten bucks a month  To make that even cooler, I've now added a component called "DancesWithFat Deals" which are special deals to my members from size positive merchants. Once you are a member I send out an e-mail once a month with the various deals and how to redeem them – your contact info always stays completely private.