[You can read an extended multimedia version of this article at 2beMag #6, with runway video and photogallery included!]
Kristian Aadnevik – a Norwegian fashion designer, born and raised in Bergen, started of his career as a fashion designer by hijacking his mother's sewing machine while still a child. He's sewing skills were apparent at an early age and after completing his tailoring qualification in his home town, he was accepted at the Royal College of Art in London to start a MA in 2000 as one of only few students. While still studying he won various design competitions, one taking him to Japan, and being able to showcase his work at United Arrows department store in Tokyo. Kristian also worked as an assistant to British designer Alexander McQueen.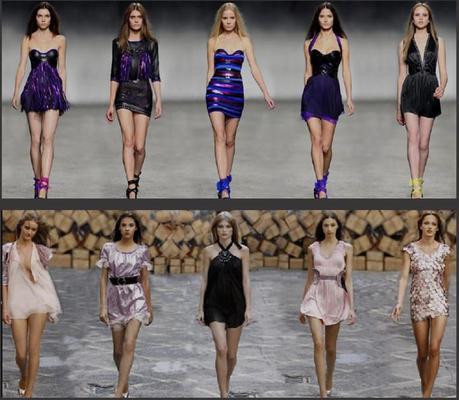 After graduating Kristian was offered a position as chief designer at French label Charles Jourdan, he was enjoying the challenge but always kept the dream alive about having his own brand one day. In 2006 his dream finally came through and he was able to quit his design job and instead dedicate 100 percent of his time on his own brand.
After showcasing his collection at London fashion week, many were impressed, and sales of his clothes steadily increased over the years. Still based in the capital of England after all these years, Aadnevik considers London to be the best place for aspiring designers to start, young and creative, and very different from Paris that is a better place for designers who already are established in the industry.
So what is Aadnevik`s design trademark? You could describe his fashion being; sexy, gloomy, opulent and smoothly glamorous. The collections are usually on the verge of couture, and his dresses have a dark edge and a slim cut silhouette using feathers, leather, texture and embellishment with luxury fabrics.
Sounds Familiar? Well Kristian himself admits that his mentors Alexander McQueen and especially Donatella Versace has influenced him along his road to become a household name.
In 2008 Kristian was chosen as Donatella Versace's new protégé in a Australian project where five established names,(Karl Lagerfeld, Paul Smith and Francisco Costa and Franca Sozzani were the other participants) selected one talented designer each to create a capsule collection for them. The collaboration with Donatella earned him critical acclaim and the respect of his mentor Versace, who has since continued to advise him and even helped him get further funding for his show in Milan. The last show in 2009 got fantastic praise in the press and the collection was high in demand.
The same year, Kristian took a break from his personal work and accepted an offer from Roberto Cavalli to become senior designer for the brands main collection. Now after a year of new experiences and challenges Kristian Aadnevik has decided to finally get back to his own brand and will showcase a new collection at London Fashion Week the 20th of September. Will the Norwegian wonder child surprise us again? We are certainly sure of it!