[You can read an extended multimedia version of this article at 2beMag #11, with catwalk video and photogallery included!]
Gareth Pugh was born on august 31 1981 and is a British fashion designer that has known he wanted to be a fashion designer during his whole life. At the age of 14, he started working as a costume designer for the National Youth Theatre, and when it came the moment to decide what to study; he started his career at the prestigious Central Saint Martins in London, which finished in 2003. It is interesting to know, that while studying, he interned with Rick Owens in Paris.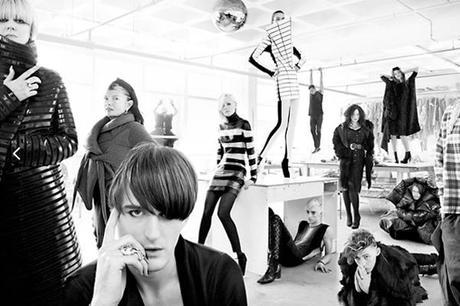 His final collection at Central Saint Martins was made with balloons that accentuated model's joints and limbs, which has been his trademark forever and which also attracted the fashion editor of the magazine Dazed and Confused and placed one of his designs on the cover of the magazine. This, and the fact that he showed his creations at the Alternative Fashion Week in London, caught the attention of the group Fashion East, who invited Pugh to participate in its autumn 2005 group show. The collection he presented really got the critic's attention and had very good reviews. Pugh solo premier was in London's 2006 fall shows and, since then, his collections keep being very well received. Anna Wintour had declared to be a notable supporter of Pugh's designs, as well as the singer Kylie Minogue, who was the first person to buy a piece from him and, since then, she has never stoped wearing his creation in her shows and public appearances.
In terms of style, he could be considered among those designers that understand fashion as an art performance, such as Alexander McQueen or Vivienne Westwood. More than taking references, Pugh says that his collections are, somehow, autobiographical and are really inspired, too, from Britain's extreme club scene. Pugh's designs are known for the experimentation he does of forms and volumes, frequently creating "nonsensically shaped, wearable sculptures" which distort the human body.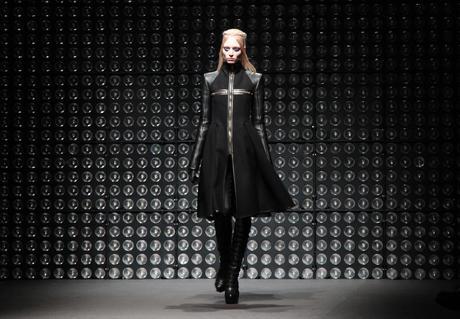 Among the materials he uses, we can find PVC, latex, parachute silk and foam, among many others. He is known for revitalizing British and European fashion and by his exuberant imagination and his theatrical conception of fashion, transmitting an unreal feeling. Until 2007, his clothes were only made to be shown at the catwalks but were unavailable to purchase. Now it is time to see if he is just an amazing fashion artist or if he can also give a good result in terms of commerce. By now, we are starting to see how he is slowly introducing more wearable creations within his collections, and we know he has partnered with major manufacturers to produce some of his pieces, which can be understood as a way of starting to be a designer for people, and not only for the show.
[text by Laura Sunyer]