My take on this popular Cajun recipe calls for both ground beef and pork to give this rice dish its characteristic "dirty" look.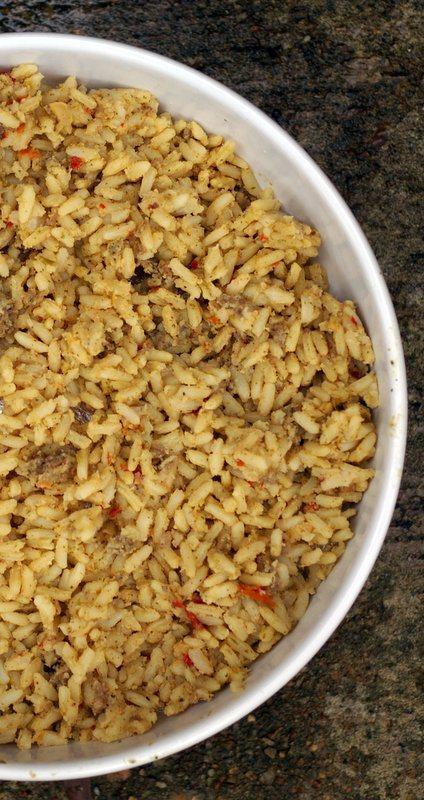 I am not sure if I mentioned it, but I am not a fan of liver. For me it is a texture thing.
Nope I will not go anywhere near liver or gizzards either.
When I cook a whole chicken, I remove the liver, gizzard  and neck from the inside of the the bird. I keep the neck and use it to make stock, but the liver and gizzards I boil and give to the dog.
Maybe that is why I never really liked dirty rice.
If cooked the "authentic" Cajun way you are going to need livers and gizzards.
No thank you.
I can make it look dirty with some ground beef and pork. This way it is delicious without that weird tasting liver.
I know that it is not authentic, but I think I am with a lot of other people who are not a fan of liver or gizzards.
I am not really trying to hate on the liver and gizzards, it is just not for me. I do love rice and thought I would give dirty rice a chance in my kitchen. Of course minus the liver and gizzards because that is how I roll.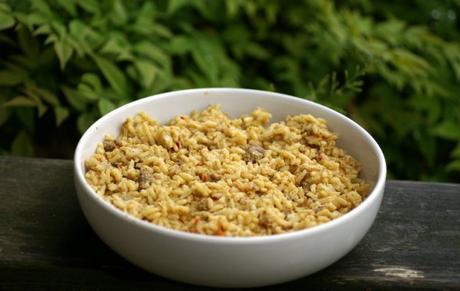 Print Recipe
Dirty RIce
Ingredients:
1/2 pound ground pork
1/2 pound ground beef
4 cups diced onion
1 cup diced celery
1 cup diced bell pepper
1/2 cup chopped green onion
1/2 cup chopped fresh parsley
1/4 cup minced garlic
1/2 teaspoon salt
1/2 teaspoon black pepper
4 cups cooked rice
Directions:
In a large saute pan cook pork and beef over medium heat until no longer pink. Remove meat from pan and pour off excess fat. Add onions topan and cook until soft. Add celery, bell pepper, green onion, parsley and garlic salt and pepper. Cook for 7-10 minutes. Return meat to pan and add cooked rice. Stir to combine. Cook another 3-4 minutes or until everything is warmed through. Cover pan and allow to sit for 10 minutes or so before serving.
Peace be with you,
Veronica