For the third year running I prayed to the clothing Gods that I wouldn't drop anything too colourful or stain inducing on my white dress at Brisbane's annual Dîner en Blanc.
Participants in the foodie flashmob descended on pick up points around the city last Saturday night ready for a night of dinner, dancing and, in some cases, debauchery.
I shared this year's experience with Rish, Brigid and Cass—who was possibly the most gorgeous pregnant person to ever be dressed in head to toe white!
Our picnic location was New Farm Park and, once again, there was a buzz in the air as people on the bus speculated about what this year's secret location would be.
After a few complaints last year from people who felt Northshore Hamilton wasn't a "prominent" location, I tipped that we'd be heading somewhere close to the city.
As the bus made a right turn out of the city, all signs were pointing towards Roma Street Parklands.
As we made our way along the Terrace, a text came through confirming we were headed to the Parkland's Celebration Lawn and a small cheer went up on the bus as we turned into the Parklands.
With hundreds of tables already set up by the time we arrived, the sight was pretty spectacular. We quickly set up our tables and settled in for a night of fun and frivolity.
To make things easier, we'd split responsibility for each section of the meal between us so we feasted on a spread which included bacon, spring onion and cheese savoury cups (I took the cheat's way out and ordered them from Jocelyn's Provisions) with rocket, pear and parmesan salad, Cass' homemade salmon cakes and salad and topped it all off with Brigid's mouth-watering lemon meringue tarts.
Then it was off to the dance floor and the old school song's being played by DJ Bacon.
Thanks to the organisers for another great night out. See you next year!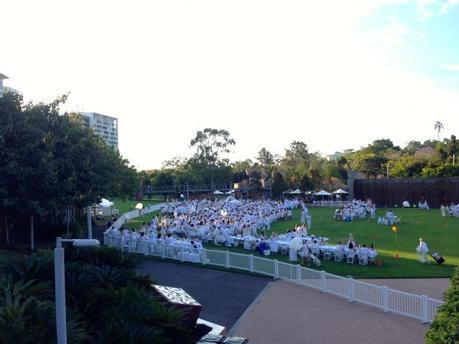 The secret location was revealed as the Celebration Lawn at Roma Street Parklands.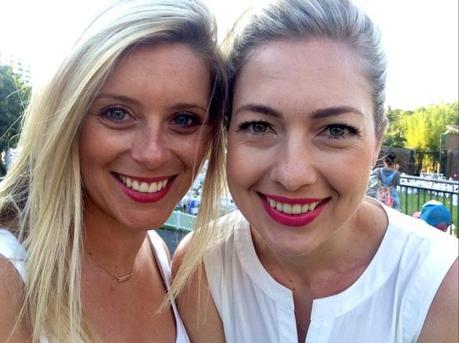 White dresses with bright lips … Brigid and I.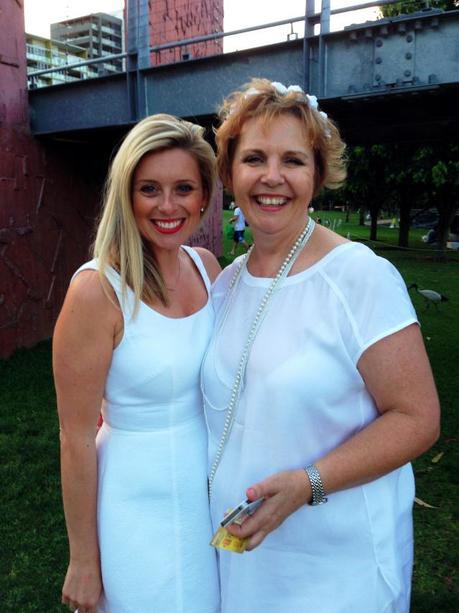 Wine time … waiting to pick up the champagne with Annette.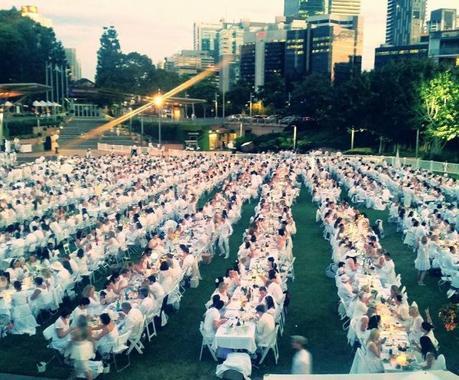 Let the dinner begin. Photo by Joanne Benneworth.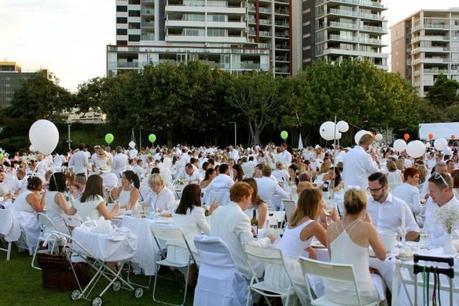 Photo by Marysia Hacon.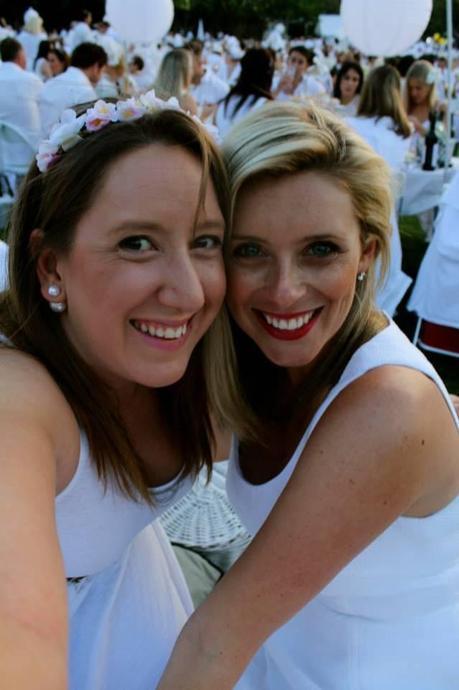 Rish and I.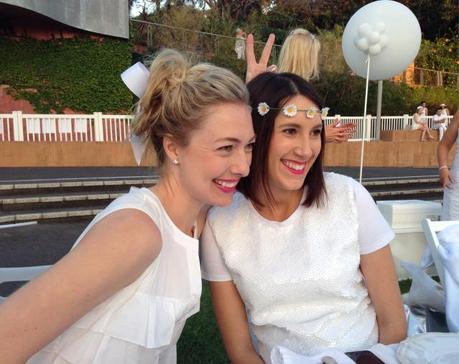 I love these two … Brigid and Cass.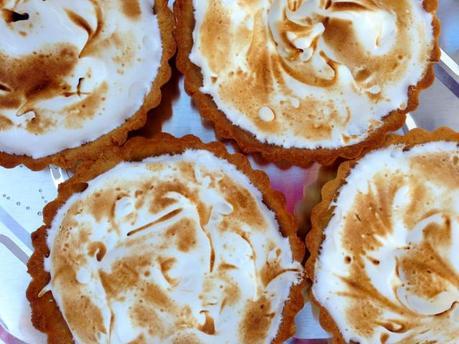 Brigid's amazing homemade lemon meringue tarts.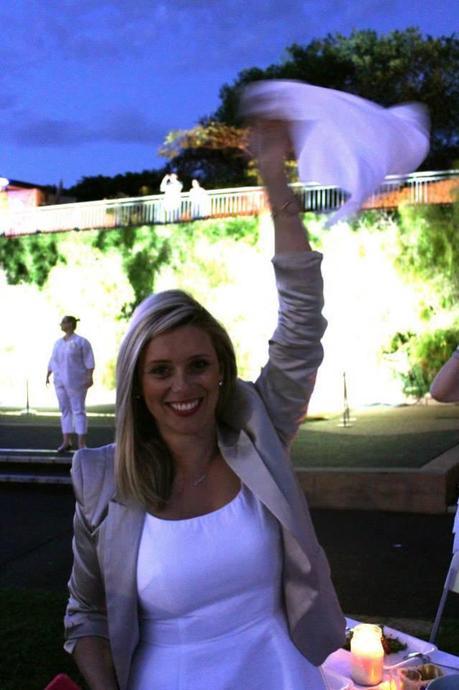 One of the rituals of the Dîner En Blanc: the waving of the white napkins. Photo by Marysia Hacon.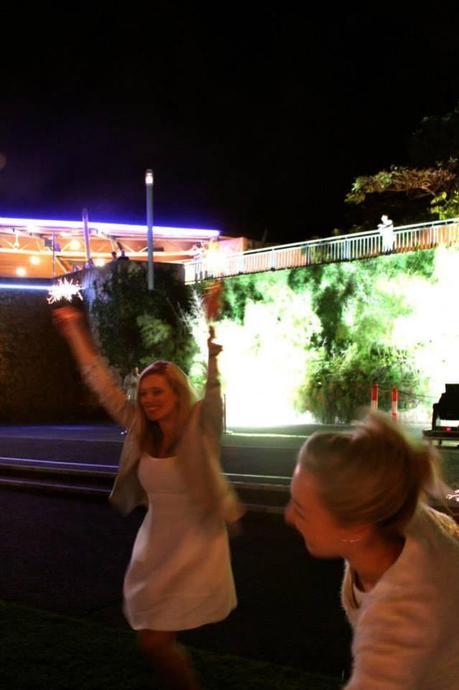 Doing the sparkler dance with Brigid. Photo by Marysia Hacon.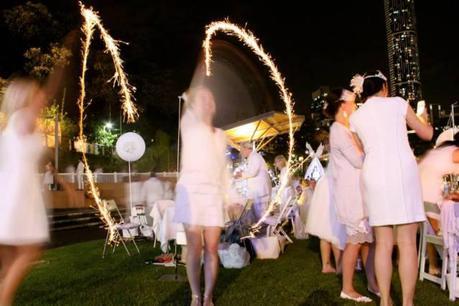 Photo by Marysia Hacon.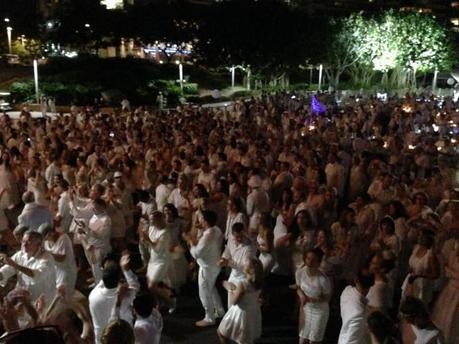 After dinner all the action was on the dance floor!
>>> What I wore: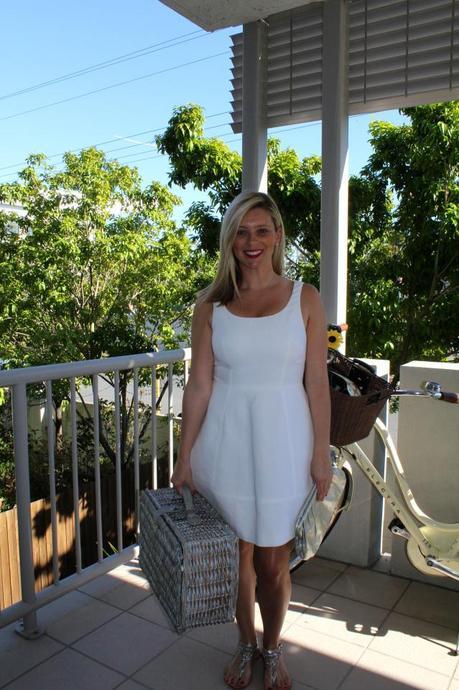 I kept it simple with a little white dress (a summer essential) by Karen Millen, silver embellished flats by Witchery and my much-loved silver clutch by Oroton. I also took along a silver blazer by Portmans.  My picnic basket is from Wheel & Barrow.
To join the waiting list for next year's event, visit the Dîner en Blanc website.