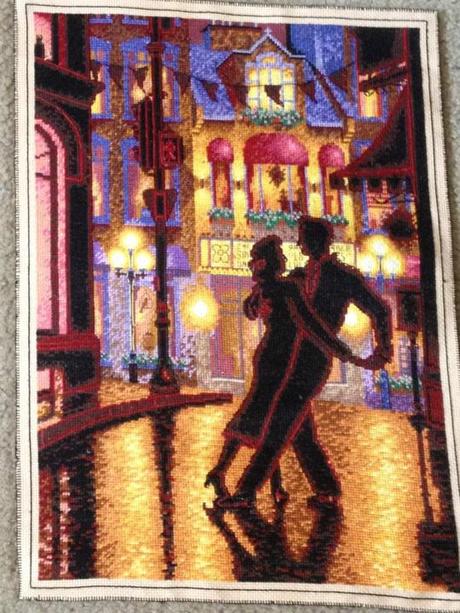 Finished design
This is the finished design of the dimensions kit "Midnight Dance."  I'm very happy with the way it turned out.  Even though it is stitched on light colored aida cloth once the colors are put into place you really get the 'midnight' effect, and the colors are all vibrant and pop.
The design took around 5-6 months to finish but this is due more to my busy schedule than design difficulty and overall I think it makes for a very quick stitching project.  Probably around the 3-4 month range (although all of us stitchers are probably busy with other projects and real life things, so I'd plan ahead for the six month mark.)
My only issue with the pattern was that it doubled up on about twenty lines when you switch from page one to page two while only noting a double on five lines.  Which lead to a lot of unpicking and a very unhappy stitcher.  Still, I think this design is worthwhile and if you're a moderate level stitcher you won't have any problems.  You'll use cross-stitch, back stitch, half cross-stitch, and french knots in this design.
To get a copy for yourself, click here. It's priced around $35