I get so many emails every week asking me to promote everything under the sun on my blog. If I wrote about them all I'd never actually get to share anything else! One particular email struck a chord though and it also sounds like great fun! 
The Peter McVerry Trust operates in much the same community as my own day job. I work in an education facility in the north inner city. They work with young, often homeless, socially disadvantaged youths at risk of addiction.
There is no denying that Dublin has a problem with homelessness and since the downturn in the economy this problem has increased dramatically. I think people are often eager to help but they don't always know if giving money to people begging on streets is the way to do it.
Now, though, there is the opportunity to make a real contribution while also having great fun. Intrigued? Read on!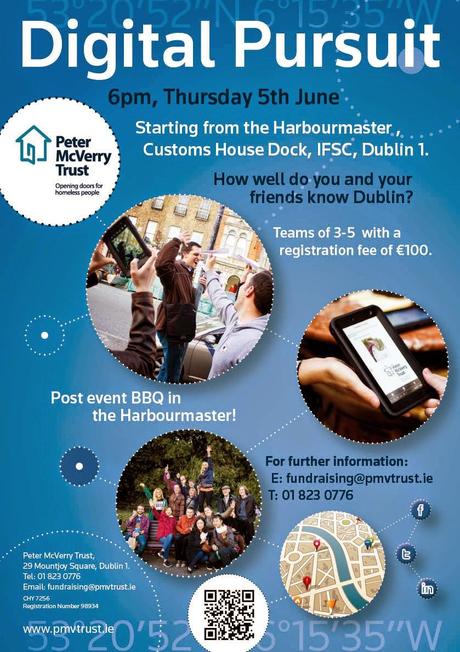 Digital Pursuit is a team challenge event organised by Peter McVerry Trust. Using an android tablet device your team will race through Dublin, solving puzzles, finding lesser known facts that you pass across the city and never notice. You also have to complete a series of wacky public challenges that will definitely throw you out of your comfort zone! 
Do you think you know Dublin well enough to take part? Well prove it then! Put your money where your mouth is and register here! 
The Digital Pursuit will begin at the Harbourmaster Pub in the IFSC on Saturday 6th of June at 6pm. Afterwards, when you've completed the challenge head back for a BBQ and some well deserved drinks. Have a read here for more information.