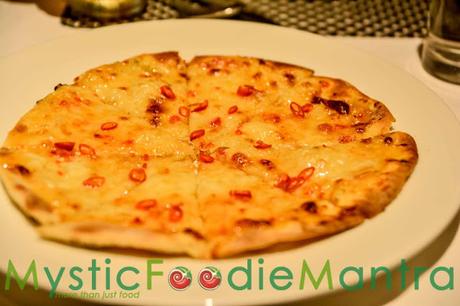 Meltdown sweet chili pizza - (White Choco chip, sweet chilli dip)
What - Desert Pizza festival 
Where - Momo Cafe Courtyard By Marriott, Gurgon
Date: 20th-31st July
For reservations, call: +91 124 488 8444 / Ext 8245
Time: 12 noon to 11:30 PM
Price: INR 401 + taxes
If I ask how many of you like desert you might say wonder - what kind of question is this? But if I ask - how about desert pizza, how will be your reaction? If you haven't heard of it before, I am sure you will love it and would then share your opinion too!  All you need is - head to Courtyard by Marriott, Gurgaon where we have the desert pizza festival that will continue till end of this month.
Executive Chef of Courtyard By Marriott Amit Dash invited us to sample his desert pizza and being aware of his innovative culinary skills, I was looking forward to it. I asked him about this idea and he shared that last month, when he was waiting for his daughter's birthday cake, (that didn't come) he tried to twist and turn with the available pizza base which everyone liked it then he thought let's do it at the restaurant too. And after eating those pizzas – would simply say - Great job chef!  All pizzas are innovative and clearly the flavours are very balanced.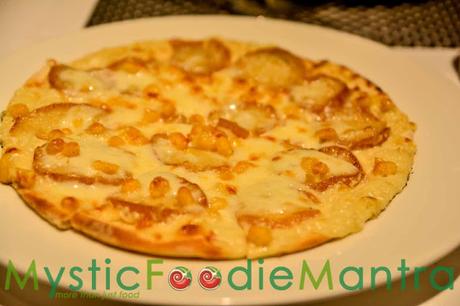 Nizami nazakat pizza - (Boondi, Rabri, gulab jamun)
Eleven pizzas to offer and chef has used various combination to attract all segments of people. Children will love these pizzas. The interesting combination of gulab jamun with boondi and rabri, the mango and basil pizza, apple and mashmellow, meltdown sweet chilli pizza were amongst my favourites and I am sure you will also love it.
Sharing list of pizzas that are being offered and you will love each of them
•Banana Nutella pizza - (Caramelized banana, Nutella spread and basil)
•Meltdown sweet chili pizza - (White Choco chip, sweet chilli dip)
•Caramelized pineapple pepper - (Caramelized Pineapple, Roasted sweet Bell Peppers, Chocolate spread)
•Blueberry white chocolate ganache pizza - (Blue berry compote, white chocolate ganache)
•Apple and marshmallow pizza - (Apple caramelized sauce, dice apple, and marsh mellow)
•Mango basil pizza - (Mango puree, basil, mango chunks)
•Angoori Rasmalai pizza - (Rabri reduced, topped with Angoori Rasmalai)
•Nizami nazakat pizza - (Boondi, Rabri, gulab jamun)
•Coconut cardamom pizza - (Soaked grated coconut, dry fruits, red currant jelly sauce)
•Wild berry litchi milk chocolate ganache - (Wild berry, litchi compote milk chocolate ganache topping of litchi)