I just wanted to do a quickie post about the Diamond Jubilee.
It was an amazing few days in London - loads going on, fab sense of community, the concert, procession, service...it was a fun time to be a Brit.
The Queen looked beautiful every day of the celebrations. She stuck to the color palette which works best for her, soft, pastel shades in cool blues, warm gold and sparkling silvery/white, and each of her outfits looked gorgeous. The other stand out star of the jubilations was of course, the stunning Kate Middleton...or Catherine Windsor...whichever, you know who I mean. She looked amazing, albeit a bit skinny, on both the boat procession day and the service day, where her attire was classic with a very contemporary twist and her hair and make-up were youthful and relaxed.
I've chosen my favorite Queen and Kate looks from the celebrations.
With the Queen, I particularly loved what she wore on the first day of the celebrations - a chic and simple studded white coat dress, and custom diamond encrusted hat (which had a really cool contemporary shape) by Angela Kelly and of course, her trusted black Lauder handbag.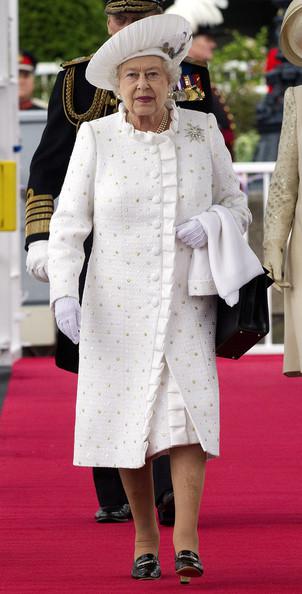 As for Kate, I loved what she wore on the barge procession. Once again, she opted for British designer Alexander McQueen (great choice). The beautiful red pleated Mcqueen dress was stylish, eye-catching and showed off her narrow silhouette perfectly. I especially loved the cute pleated skirt, which was a younger sort of flirty touch - get ready for a lot of high street knock offs! She also wore her beloved nude LK Bennet shoes - a bit bored of these now, a red Sylvia Fletcher hat and a gorgeous silver dolphin brooch, which was given to her as a gift from the royal navy submarine service.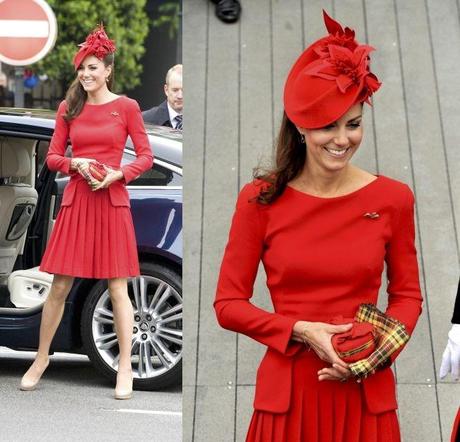 Did you watch any of the Diamond Jubilee celebrations? Enjoy x