These crunchy,tasty and highly addictive little treats are a must in our home during festivals like diwali.We call it diamonds biscuits are maida peda,but it is commonly known as diamond cuts/maida biscuits.Some people add shortening like vanaspathi to do this,but we prefer to make it only with molten butter.Generally there are two versions of this,spicy one and sweet one,but in our home we make this combination version,my absolute favorite.You can never stop once you start munching.Make this small if you want to mix in mixture else you can make like small cookies.I actually anted to try baking this but since this is for festival I went for deep frying :)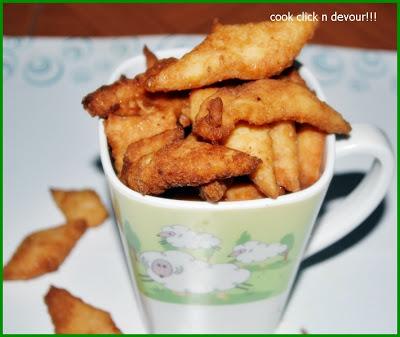 Diamond biscuits recipe
Star ingredients:All purpose flour and butter
Time:30 minutes
Serves4-6(one serving)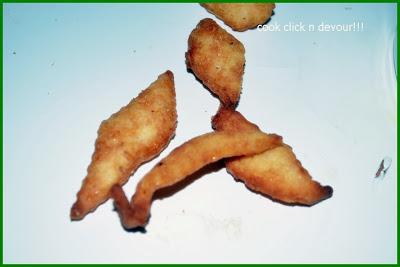 Ingredients:
2 cups all purpose flour/maida
3 tablespoons molten butter
3 tablespoons sugar
2 teaspoons chilli powder
1/2 teaspoon carom seeds(omam)
Salt
Oil for deep frying
Method:
1.Mix all the ingredients except butter and oil, combine well.Slowly add the molten butter,mix with your fingers and combine well.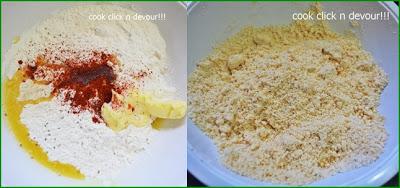 2.Now slowly add water little by little and form a soft dough.Make 3 big balls out of that dough.Roll each ball into a thick circle and cut out into diamonds.


3.Heat oil for deep frying,once the oil is hot fry the diamonds in batches until golden brown in a low-medium flame.
4.Cool and store in airtight contaier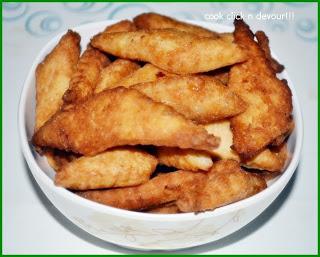 Notes:
1,You can avoid caraom seeds and add cumin seeds instead.
2.Skip chilli powder and add just a pinch of salt to make sweet biscuits.
3.Sometimes we make this with whole wheat flour or a combination of both.