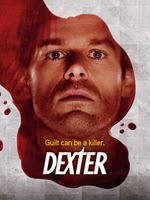 I have yet to watch the SHOWTIME series Dexter but hear nothing but great things!  
My BFF paid homage to the series by creating a bloody manicure & pedicure.  
How she did it: 
2 coats of white nail polish.

Use a small paint brush w/ a deep red nail polish to make the blood spatter and then good luck w/ the letters because she said that was the hard part especially if you are not ambidextrous.
Halloween is in the air!!