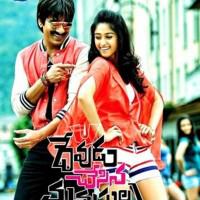 Movie: Devudu Chesina Manushulu
Director: Puri Jagannadh
Cast: Ravi Teja, Ileana and Prakash Raj
Rating: **1/2
In one line DCM can be dissected basis the famous line by late Rajesh Khanna in 'Anand' – Ae Babu Moshai, Zindagi aur maut uparwale ke haath hai. Usse na aap badal sakte hain na main. Director Puri Jagannadh scripts a simple love story based on the universal truth – two persons are destined to meet if God wishes for the same. Although the film is unique in its presentation and Puri definitely deserves some credit for the same but unfortunately DCM fails to live up to the Puri-Ravi combo that we've seen in the past.
On the occasion of an auspicious day, Goddess Lakshmi requests Lord Vishnu to tell her a story. Lakshmi is told the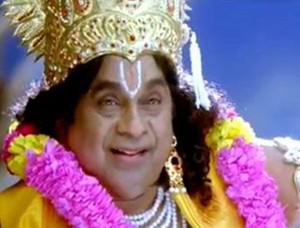 story of Ravi Teja and Ileana, two orphans who are poles apart from each other but are destined to meet. Rest of the story takes us through events that will eventually make them meet. Will Ravi and Ileana meet and fall in love or not forms the crux of the story?
A simple story, unlimited full-fledged comedy and Ravi Teja will persuade audience to flock to theatres to watch DCM. If there's one thing that comes naturally to Ravi, its comedy and you get to see loads of it in this film. Puri-Ravi duo have given us some memorable films however DCM may not be the best in the list but will be remembered for bringing forth something offbeat.
In DCM, you'll see two different versions of the same story between intervals. So, by the end of the film you come to the conclusion that irrespective of how things unfold, when two individuals are destined (by God) to meet, they'll meet. This proves that the title is so apt to the film.
In an attempt to make the film appear as humorous as possible, Puri tampers with the plot to give us plenty of laughable moments but not a story that'll keep you hooked to your seats. But, if you walk in to the theater hoping to laugh out loud, you will and I guarantee that.
Ravi Teja as Ravi Teja gives you what you always wanted from him – unlimited entertainment. Ravi is energetic and super entertaining in his role, as usual while Ali, who is almost seen in all Puri films, shines in his role. His role gives us something to learn and apply in our own lives. In life, stop praying for hours to God and work hard to achieve something that you desire. Ileana as Ileana, who plays a cabbie did justice to her role but that weird looking wig on her head was such a turn-off.  Brahmanandam and Kovai Sarla have always remained as one of the most loved odd comedian couples and here's another film that you'll remember them for. Lastly, Prakash Raj pulls a stunner, playing a don with short term memory loss, he's funny too.
Puri's direction doesn't need any special mention because at the beginning of the film he tells us his intent. This film is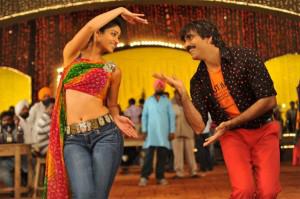 made with a sole purpose to make you laugh and it achieves the same but nothing more than that. Raghu Kunche's music fell short of expectations and disappoints one and all.