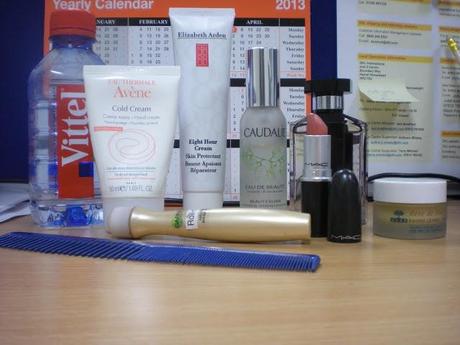 Mini Vittel Water Bottle Avene Cold Hand Cream Elizabeth Arden Eight Hour Cream Caudalie Beauty Elixir Stella Perfume Mac Fanfare NUXE Reve de Miel Garnier Roll One Comb
For anyone who works at a desk, whether it be in an office or at work will know that you need some essentials at your desk at all times. I'm still relatively new at my new job but I thought it would be great to show you what essentials I have at my desk. 
Water - gotta keep hydrated
Hand Cream - keeps my hand super soft
Eight Hour Cream - the best thing in the world for cracked/dry skin
Beauty Elixir - keeps your skin hydrated in a hot office
Perfume - you gotta smell nice, right?
Lippy - top for during the day
Lip cream - keep them chapped lips at bay
Under eye roll on - No one needs to see how tired you are
Comb - keep that pesty fringe in control
What are your desk essentials?