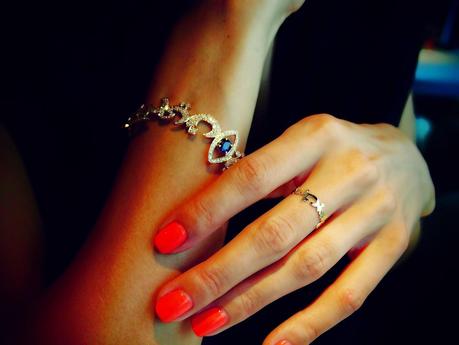 Plukka is proud to announce it's collaboration with a Middle Eastern favorite, Bil Arabi by Nadine Kanso, which means 'In Arabic'.The brand, which has been worn by countless celebrities including Eve, Eva Simons, Zaha Haddid, Elissa, Julianne Moore, Kylie Minogue, Dita Von Teese and more, truly captures the essence of the modern Arab identity in the 21st century as she sees it – unique, unavoidable and with a will to be seen and heard.
Plukka, which is the premier online retail destination for luxury, creativity, and extraordinary value in fine jewelry, officially launched in Dubai early January 2014, and is fast becoming a favorite with fine jewelry lovers in the region.
Bil Arabi's latest collection includes rings, earrings, bracelets, pendants and cufflinks that draw on the inherent beauty, calligraphic shape and lyricism of the Arabic alphabet, will be available online exclusively on Plukka.com.Using yellow, white and rose gold, along with dazzling precious and semi precious stones, Kanso's funky twist is apparent, creating a new contemporary visual language that nestles comfortably on the hand, wrist, ear or dangles elegantly from the neck.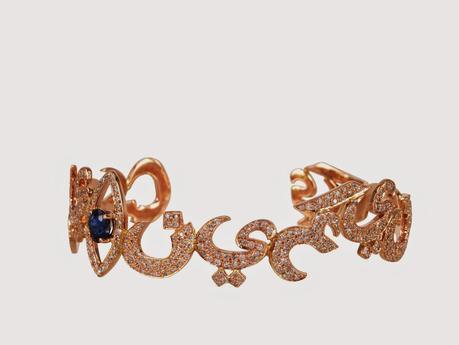 Bil Arabi will also be launching a specially designed cuff that will be exclusive to Plukka and available only through the online fine jewelry retailer.The name of the cuff, "Ya 3ein" is a term of endearment, uttered when faced with dazzling beauty.It is a word that is sung in many Arabic songs and spoken to ward of the evil eye, which is the centerpiece of the rose gold cuff with a beautiful sapphire and diamonds surrounding it.

"This piece is for the well traveled woman who embraces culture, someone who appreciates the beauty of language and Arabic calligraphy as an art and design piece, looking beyond the ‎literal meaning" says Nadine Kanso."Most of Bil Arabi pieces are worn day to night and this one is no exception.Today's ladies love glamour and bespoke pieces, and this exclusive piece is just perfect for that attitude."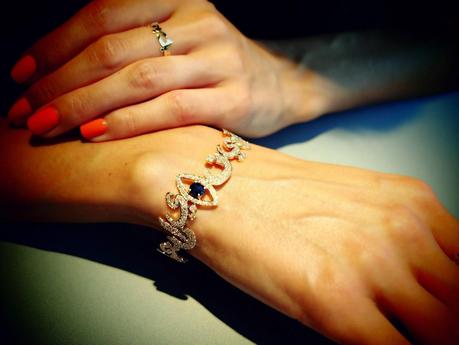 L
ike our fan page on Facebook
here
,
or follow My Vitrina on Twitter
here
*Photo: Courtesy of Nadine Kanso/Bil Arabi & Plukka