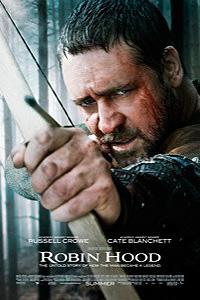 (Today marks the anniversary of composer Carl Maria von Weber's death. In his honor, I am reposting this piece about his most acclaimed opera.)
My husband came home last night and mentioned, while I was putting the finishing touches on our dinner, that the "Movie Mavens," a show his television station produces, panned the new Robin Hood with Russell Crowe. I love the Robin Hood legend and have watched every version I possibly could. So, it got me thinking about archers and opera. What operas, if any, featured legendary archers?
That's why I'm talking about Der Freischütz today on "opera-toonity." Never one to shy away from a German title with a juicy umlaut (a pair of dots or lines [ ¨ ] placed over a letter), I decided to investigate the work in my nutmeg-colored volume kindly bestowed on me by Ginger, The Benevolent.
Der Freischütz is a three-act opera by Carl Marià von Weber with a libretto by Friedrich Kind, first performed in Berlin in 1821. It is considered the first important German Romantic opera, and also significant because von Weber's work was reputedly an influence the work of Richard Wagner. Like the story of Robin Hood is to the English, Der Freischütz is based on German folk legend, and many of its tunes were inspired by German folk music.
(I guess every nationality has an artistic love affair with their legendary archers.)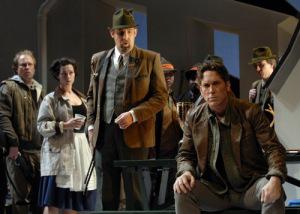 Opera Boston's 'Der Freischutz', 2008
It tells the story of a marksman who makes a pact with the dark side to win a contest and the hand of his beloved.
Though Der Freischütz quickly became an international success, with some 50 performances in the first 18 months after its premiere,  it is not often performed in the United States today. A press release about Opera Boston's 2008 production stated that their production was the first to be given in Boston in 25 years.
Not too long ago, an opera aficionado I respect, Roberto Romani, aka Opera Rat, decried the fact that the same operas are produced over and over again, in this instance, he didn't think the Midwest needed yet another mounting of La Traviata. 
If some operas suffer from overexposure, and if enthusiasm still teems for archer legends, why isn't Der Freischütz produced more often? Does it require perfect voices like Il Trovatore?
Despite its overall lack of production, the overture and the "Hunter's Chorus" from Act III ("with Princely enjoyment and manly employment …") was once oft-performed as concert pieces. The overture has been hailed as a masterpiece of brilliant instrumentation, providing listeners with keys to the entire work by announcing leading themes.
YouTube's queue wasn't running over with clips. Here's one of the Südfunk-Sinfonieorchester, from 1970, conducted by Carlos Kleiber. It is, in a word, magnificent.