If I have to list top 10 places in Delhi that are my absolute favourite, I won't even think twice before having Depot 29 on it. Located in the Safadarjungmarket, Depot 29 is one of the most popular places in Delhi, and based only on their quality of food, service and what the place has to offer, not because they go all out marketing themselves. No, absolutely not. They've recently come out with their new seasonal menu and the menu only adds to the already existent superlative variety and taste of the food. Tried a few dishes off that menu, and of course, without any surprises, I only have praises for it.
The new menu comprises of a range of salads, tacos, empanadas, burgers and mains, and I would like to highlight that they have reintroduced their Jackfruit Burger- something people simply adored when it was available at the restaurant, and is back only because Delhi wanted it back. So much for your favorite dish, right!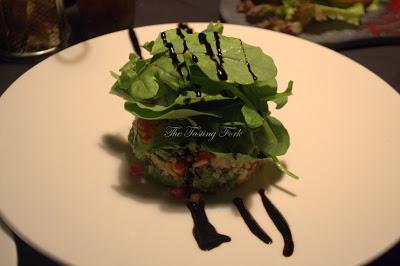 I started off by trying the
Quinoa Salad with pomegranate, mint and pine nuts, with chicken
. The salad was super fresh with the addition of mint leaves, the quinoa and pomegranate went so well together, and you had pine nuts for the crunch too. It was a complete dish- didn't lack anything at all! Your visit to Depot 29 doesn't count if you don't try their empanadas. The new menu had
Chipotle marinated chicken cheese and jalapeno empanadas with herb salsa
on the side. Now I'm already a fan of their empanadas, so I knew I was expecting only brilliance. Their empanadas are a beauty! Keeping in mind that they're a part of the summer menu, the empanadas weren't heavy. And surprisingly so because of the addition of cheese as well. A very thin crisp coating on the outside with a delicious stuffing of chicken, cheese and tiny bits of jalapenos.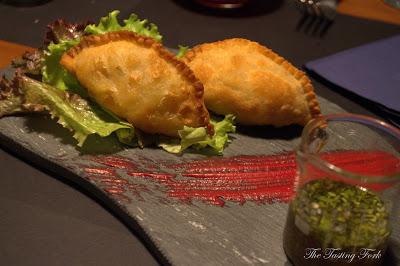 We then tried the Pulled Pork and refried beans quesadilla and Banh Mi-style chicken taco with sriracha mayonnaise. The Pulled Pork Quesadillas were extremely soft. I'm a big fan of anything to do with pulled pork here. It's guaranteed that the dish will be great, and so was the quesadilla. The flavours are milder in this but damn good. The Banh-Mi style tacos are served cold, with Asian vegetables in them and chicken. Sweet and sour with an acidic balance, served with a yummy sriracha mayo that was slightly spicy and didn't have too much sriracha in it. The dish on the whole is a good mix of sweet and sour flavours and a great option when you're hungry but can't stand hot food.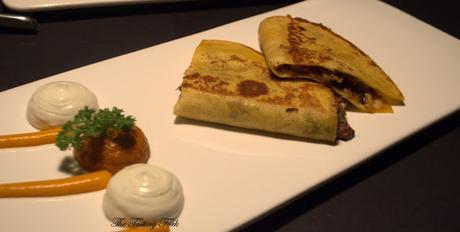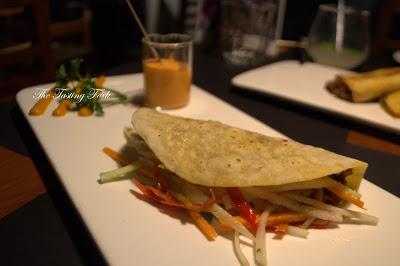 The 
Duck Burger with pocked cucumber, green apple chutney and caramelised onions
 had a damn soft sesame bun, with a beautiful juicy duck patty inside. The thing that added the most flavor for me was the caramelised onion. Gorgeous stuff- not loaded with too many ingredients, but very high on flavor. Served with beautiful golden crisp fries and a cold Asian salad on the side, you must try the Duck Burger here!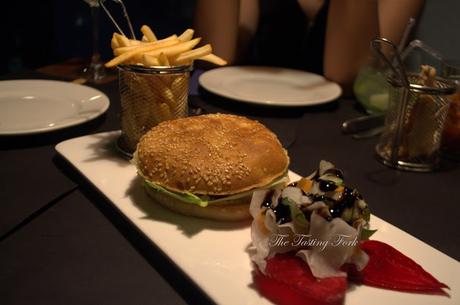 Ended the meal with – no points for guessing it right, the famous waffles! Chocolate Gianduja with caramelized nuts waffles, and Banana and toffee waffles (2 of each). Depot29's waffles are the best in town hands down. No competition  when it comes to their waffles. The chocolate waffles were filled with Gianduja chocolate inside that has a flavor of hazelnut in it, and has caramelized nuts on top, with some more chocolate on the side. The banana and toffee version has soft bananas stuffed inside the warm crisp waffles, and has a mind-blowing toffee sauce on the side to their dip each bite of your waffle into or to just pour over the entire thing. My suggestion- always opt for 2 varieties of waffles here as opposed to only one.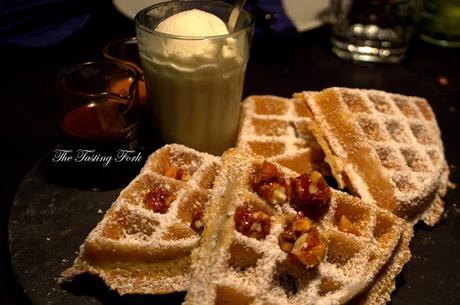 Tried a few of their special cocktails too. Monicatini and Gingranate were white rum and gin based respectively, but I got them changed to vodka based. The former was fresh ginger and lemonade with a green chilli on top. I adoreee drinks with chilli in them, and this was no exception for me. Lovely! The Gingranate had lemonade with fresh pomegranate in it, and lemon wedges too. Tried the Maicuba too which was cucumber based and had lemon juice, ginger and soda. All the cocktails had one thing in common, and the most important one at that- they weren't overly sweet for my taste. They were really really good!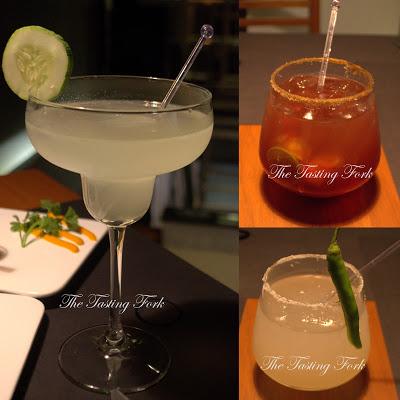 The new menu at Depot 29 is definitely a pleasant sight to look at, but even more lip-smacking to taste. The choicest variety and a great effort putting up almost every component up on the new menu. From salads to tacos to empanadas to mains, you'll find a bit of everything in the new menu, and every dish having some fresh element to it. Go to Depot 29 ASAP, order a few dishes and sip on some cocktails, enjoy the great live music scene at this place at night (they have brilliant artists performing often). Or if you visit them during the day then opt for the table next to the life-sized glass while you enjoy your meal. One of the finest places in Delhi, and has been so since the time it opened.
Address: Levels 2 & 3, B6/2 Commercial Complex Market, Safdarjung Enclave, New delhi-110029
Contact: 01149540029, 9717450029
Timings: 12 Noon to 1 AM
Disclaimer: The review was done on an invitation from the restaurant. All views expressed are unbiased in nature but readers are advised to exercise their own discretion.
Connect with me on:
Twitter: 

@sahibagursahane
Instagram: 

@thetastingfork
Facebook: 

www.facebook.com/thetastingfork