March Week 1...
Summer has ended and we head into Autumn with much cooler weather to start the month.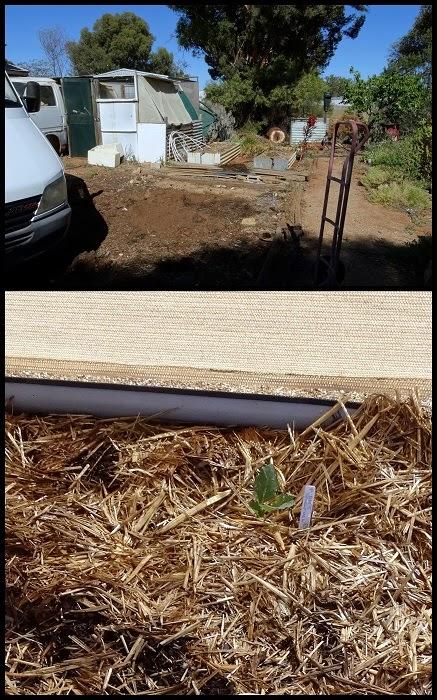 Tuesday 3rd Mar
Temperature Min 16.8C Max 29.3C
Planted a Purple Sprouting Broccoli into my Community Garden bed it was a spare seedling from my neighbor.
The old shade cover over the water garden has been removed and the bath tub emptied to be moved somewhere else maybe as a pond.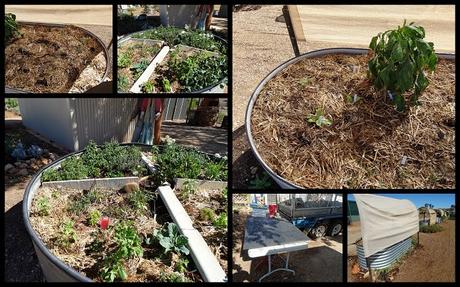 Thursday 5th Mar
Temperature Min 12.7C Max 24.2C
Planted up my Community Garden Bed - Red Choi, Red Cabbage, Mizuna, Lettuces, Garlic, Society Garlic...and some late Basil plants went into the Community Herb Garden
March Week 2...
A long weekend was a chance to get a couple of beds made up and the Garlic planted for this year. During the week, while working in the garden, Doc took a stumble and now has a badly broken leg.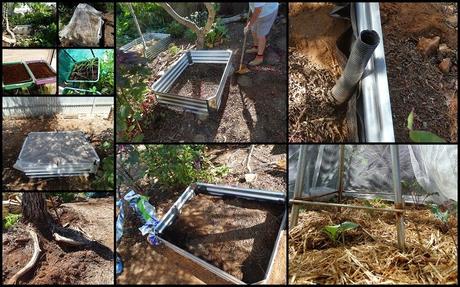 Sunday 8th Mar
Temperature Min 9C Max 27C
Doc had the chainsaw to get out some tree roots (on the dead gum tree stump) and chop up some old branches.
Built a new wicking bed and topped up a compost bed. After sorting hoses for both (dripper line to the compost bed and a tap and hose to the wicking bed) they were mulched with organic sugarcane mulch and planted. Kale, 60 day Cauliflowers and Broccoli Albert seedlings went into the compost bed. Garlic - Mammoth Purple, Melbourne Market and Italian Red - was planted in the wicking bed. Both beds were covered with vege net to keep the birds off and the bugs.
Sown into seedling trays; Onions - Gladalan White, Red Californian and Barletta
Potted on a purchased punnet of Leeks (a bit overgrown again)
Monday 9th Mar Public Holiday in SA
Temperature Min ?C Max 27.2C
Doc attached the Blackboard under the shelter at the Community Garden.
Back home I harvested a tub full of Silverbeet from the Shade Tunnel, par-cooked it and managed to put over 1kg in the freezer.
Tuesday 10th Mar
Temperature Min 9C Max 27.5C
Community Garden day - helped water beds, trim plants and tidy beds...the Garden will be open for visitors for the week before (and including) Easter!
Wednesday 11th Mar
Temperature Min 11.1C Max 28.3C
Prepared and potted up chitted potatoes Spunta and Kipfler. They have gone into pots so they can be moved into the Greenhouse as the weather cools.
Potted up 4 Florence Fennel from a purchased pot and a couple of Capsicums that will go into the greenhouse soon. Rescued some Society Garlic and potted that up too.
Took Jasmine cuttings. Planted Egyptian (walking) Onions into the bathtub bed.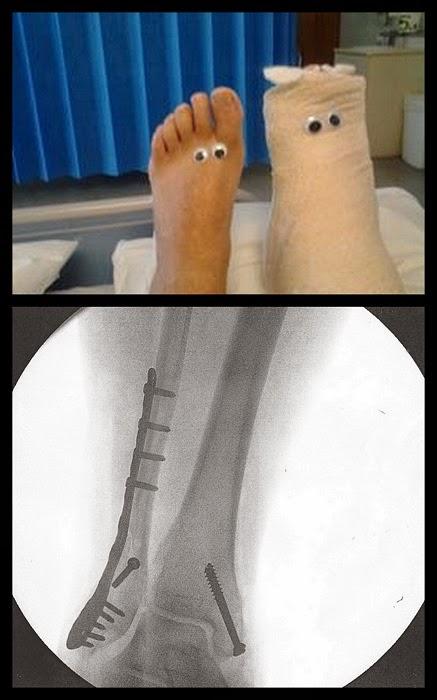 Thursday 12th Mar
Temperature Min 10.2C Max 26C
Began moving sleepers for a new garden bed...Doc tripped/fell (not quite sure what happened!!) and we spent the day waiting around at our local hospital waiting for an available flight with the Royal Flying Doctor Service to take him to Adelaide for surgery early next week!!! That was after waiting for the Ambulance to arrive from 90kms away. Doc spent a week in hospital in Adelaide and came home after surgery to place a metal plate and 11 screws/bolts in his ankle...now to begin the long road to recovery. Of course he had some fun in hospital when one of our lovely Market buddies brought him a hamper of goodies (especially some coffee bags) that included some stick-on googly eyes!!!
End of March...
Fast forward a week...about all that happened in the garden last week apart from watering was potting on of seedlings...Spinach, Cauliflower, Mini Cabbage, Chinese Broadleaf Celery.
Sunday 22nd Mar
Temperature Min 7C Max 29.5C
Working Bee at the Community Garden the two of us who bothered to turn up, both had a busy time weeding pathways!!!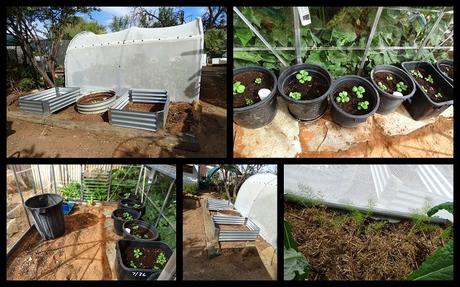 Wednesday 25th Mar
Temperature Min 5.7C Max 18.4C
Out in the garden again!!! Doc was supervising...Took the shade off at the end of the Deck Shaded Potting Area.
Moved the Potato pots into the Greenhouse as the night temps are  quickly dropping.
Moved (those) sleepers to form new beds on the Northern (sunny) side of the Shade Tunnel (outside). Levelled the soil ready for wicking beds, positioned beds to gauge depth. 
Planted Florence Fennel in Shade Tunnel
Thursday 26th Mar
Temperature Min 5C Max 16.3C
Potted up some Tagasate volunteers out of the mulch in the Garlic bed!!
Friday 27th Mar
Temperature Min 4.1C Max 19.8C
Potted on Spinach Bloomsdale and Southern European, Hon Tsai Tai, Parcel, Coriander, Yukina Savoy (Large Leaved Tatsoi) and Corn Salad.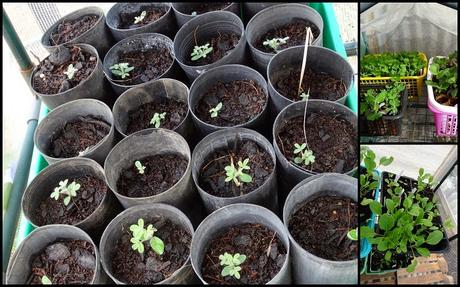 Saturday 28th Mar
Temperature Min 4.1C Max 21.3C
Sown into loo roll tubes (because their beds aren't ready just yet) - Peas Sugar Snap Climbing and Cascadia and Broad Beans Aquadulce
Monday 30th Mar
Temperature Min 8C Max 26.7C
Built up soil in 2 beds out the back with mushroom compost and soaked coir.
Tuesday 31st Mar
Temperature Min 10.5C Max 28.4C
Planted Silver Beet, Lettuce, Peas (seeds) in one bed and Mizuna, PakChoi, Chinese Broad Leaf Celery in the other. The Brassicas were covered with Vege Net.
This month we have been harvesting...
Beans
Volunteer Amaranth
Chives Onion and Garlic
Cucumbers Green
Egyptian Spinach
Kale
Malabar Spinach
Parcel
Parsley
Radish
Silverbeet
Spring Onions
Tomatoes
Tromboncino
Zucchini
Apples
Blackberries
Figs
Grapes
Nashi
Pears
Strawberries