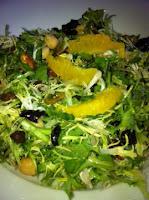 Last week I had a rare opportunity to meet my mom for lunch.  Working full-time means getting out in the middle of the day isn't always easy, but we had a chance to make it work, so we ladies went to lunch!
Moderne Barn
is a beautiful restaurant located in Armonk, New York owned by the Livanos family Restaurant Group, proprietors of Abbocatto, Oceana and Molyvos in NYC.  It's within 15 minutes of my house, but when you're there, you feel like you've been transported.  The ceilings are remarkably high with big exposed beams, and you dine on comfortable banquettes with needlepoint cushions at dark tables...it feels like Ralph Lauren himself designed the space.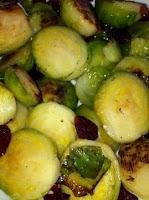 I usually love to mix things up when I go out to eat, but when I go to Moderne Barn, despite the salads, sides, flat breads and pastas, I'm a die hard for the same thing ~ The Barn Salad.  It's a blend of frisee and mixed greens, topped with black ceci beans, chick peas, black olives, cucumbers, orange segments and pistachios.  It's not just that it's raw, vegan and simple, or incredibly tasty with wonderful texture, but I can make it at home when I can't get there!  Adaptable recipes always make me happy.
Another great one to copy is the side of the brussel sprouts they offer.  If you've been following this blog for any amount of time, you know how much I love these gorgeous, leafy green nuggets of goodness, but for some reason I had never had them here before.  Well, I will next time and make them at home!  They were al dente, slightly sauteed, and sprinkled with dried cranberries ~ pretty to look at, seasoned just right, and super tasty to eat!
Speaking of pretty to look at, Michael Douglas and Catherine Zeta-Jones, fellow Bedford residents, happen to love it here too...maybe that adds to your incentive to take a ride?  Hope to see you there!