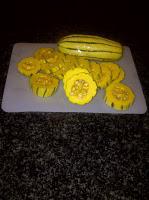 I just cooked delicata squash for the very first time.  I had never heard of it before, though I have seen it as a decoration on someone's harvest table and outside on Halloween. I figured it for an inedible gourd of some kind.  
As it's name would indicate, delicata squash look similar to summer squash, yet it has a hard exterior more akin to acorn squash or even pumpkins.  As with those varieties, this skin can be eaten (once cooked) as well.
I decided to investigate how people prepare this dish and many comparisons were made to butternut squash. As a result, I went out and picked up some fresh sage and my basting brush and went to work!
I made this delicious recipe for company last night and there was simply nothing leftover.
Here is my recipe:
Preheat the oven to 400 degrees and lightly grease a large baking sheet. 
Cut two delicata squash into 1/2 inch rounds, remove the seeds, and place them on the sheet.
In a small sautee pan, add 2 TBSP of Earth Balance buttery spread, and melt on a medium flame.  
In the meantime, finely chop 4 fresh sage leaves.  
When the butter is melted, add the sage and increase the flame until the butter starts to boil.  Then remove from heat.
Using a basting brush, paint the tops of each slice, being sure to get some of the sage onto the squash as well. Sprinkle with a touch of salt and pop into the oven. 
Roast for 22-25 minutes, depending on your, oven until tender and somewhat crispy and serve immediately.  I bet they would be good drizzled with a little maple syrup...