Yesterday i talked a little about how Deion Bonner was arrested for stealing ipods and other items with Marquise Hawkins, and another unnamed minor. I also talked a little about how police used as a tip from Facebook.
Well Martin Van Dawgin, searched Bonner's name on the net and found his twitter account with these various tweets on his page from April 7, and April 8.
Come on i mean do you have any common sense. Don't put it on twitter anyone has access to it. Police can simply type in a suspected suspect name and their you go. I hope his football skills are better than his Twitter skills thats all im gonna say.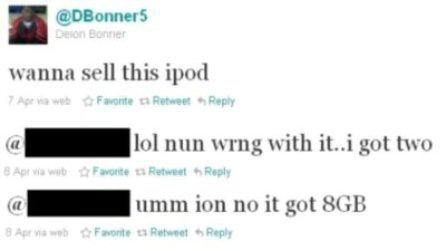 ***photo credit to ajc.com***information used from ajc.com