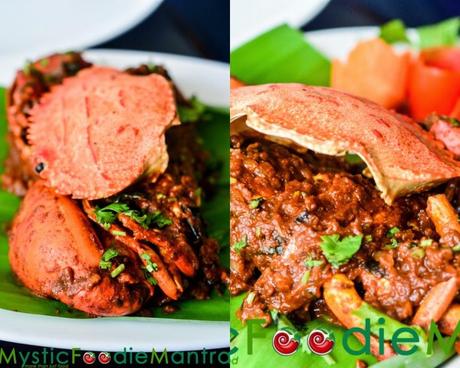 Delhi has opened up to various international cuisines, but somehow has neglected our regional cuisines. Even the state bhavans have deserted the authenticity and moved on to suit the mainstream palate. Talking about Coastal South Indian cuisine, barring the restaurants in the five stars and few high-end stand alone brands, there is a dearth of mid-range brands serving authentic South Indian coastal food.
Our search took us to Deese Dakshin in Rajouri Garden. Situated in a Punjabi dominated area, it serves North Indian, Chinese and South Indian Coastal cuisines. After hearing some good reviews, we went there for lunch last week. We were welcomed by the owner, Mr. Kishan Alva and he told us that he started the restaurant a year back just out of passion and took almost six months to settle down. He also disclosed that all three cuisines are prepared by individual chefs, which I believe is a rarity in stand alone multi-cuisine restaurants. The ambience is very simple yet warm and cozy. The table mats had a messages printed talking about sharpening one's memory.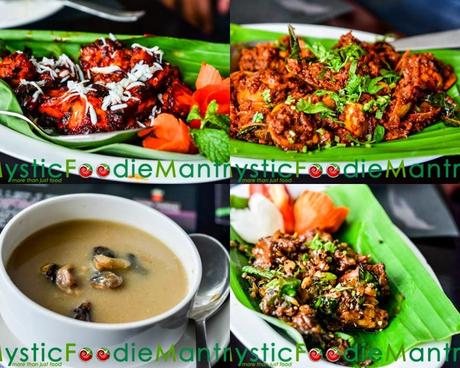 While we were chatting, the food started coming to the table. The first one to was a Veg dimsum with a chilli sauce. The dimsums were soft and steamed well, but we loved the sauce. It was very different from the regular chilli sauce. It was spicy had a good smooth consistency. Next was the super popular Manglorean recipe Chicken Ghee Roast, chicken marinated in ghee and pan fried in masala.. The chicken was succulent, fried well and the masala spicy. Next was Crab Masala Fry, whole crab cooked in traditional masala and shallow fried in spicy masala. The effort made to break the shell with equipments provided was worth every sweat, which was on my forehead. More than the crab, I was in love with the masala. Clam Drycame next. Clamshell cooked in masala and grated coconut. Another dish with brilliant masala. While we were savoring spiciness of the starters served till now, a brilliant Mutton Pepper Fry comes to the table. The aroma of light spices had put my senses into different altitude. The mutton was tender and flavorful. We simply loved the starters for the various flavors of South Indian masala livening up the meat and had fired us up for the main course. But before the main course hits the table, Paya Shorba is served. The clear soup was flavored with spices and payas (goat trotters) were succulent which reflects that it was cooked well.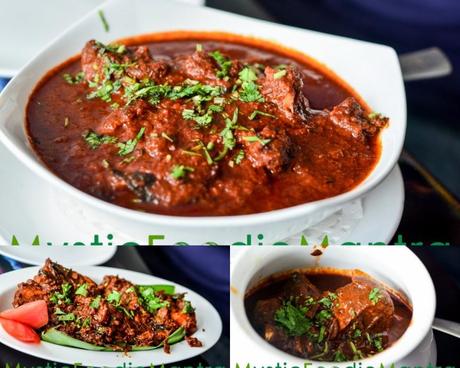 The main course had three dishes - Fish Puli Munchi, Fish Curry and Chicken Thal served with Malabri Parothas, Appamsand Neer Dosa. Fish Puli Munchi is a Manglorean recipe of Mackerels cooked in a tamarind based gravy. The oily fish was perfect for this light gravy. The flavors had seeped in the fish and Maneesh loved it. Fish Curry was Pomfret cooked in a coconut milk and mild spices. It was delectable and full of aroma as bay leaves were primarily used in it. Chicken Thal was a specialty as it was cooked in special pickle masala from a town called Kundapur, 87 km from Mangalore. I loved the aroma the amazing taste. It was best complemented with Neer Dosa. The fact that all curries in the main course were different from each other in taste and aroma was the thing we loved most.I was so impressed with the overall food that when Mr Alva asked for the desserts, I happily agreed for some delicious surprise. We were served Moon Dal Payasam and Banana Wrap. From the look of it, paysam was looking like a normal hot dal, but when I put the first spoon in my mouth, the taste amazed me completely. It was moong dal cooked in milk with raisin and nuts and jaggery. The confusing flavors

 

of dal and jageery were very tantalizing. Banana Wrap (Elai Adai in Kerala) is a rice cake filled with a mixture of grated coconut sweetened with jaggery and flavored with cardamom and steamed in Banana leaf wrapped around it. The flavors were very delectable and it can give a competition to any American pancake or crepe.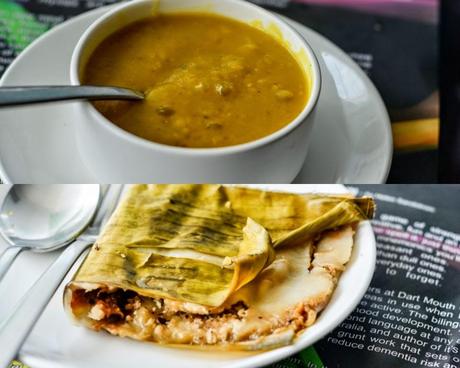 This coastal journey lasted for more than two hours and we loved every moment of it. I was impressed with the humility and graciousness of Mr Alva. He has asked us to come back for the North India and has challenged that it will be very different from the ones we generally get. We are surely coming back for the lip-smacking food.