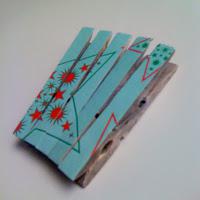 It's no secret that as a parent you do LOTS of washing.  My eldest daughter is a bit of a princess, so rarely if ever gets her clothes dirty.  My youngest, is well, young.  I'm going to give her the benefit of the doubt and hope that her life of extreme-mess is just a stage she's passing through... please, let that be true... food, paint, mud, glue, "milkie," it all ends up all over her.
Washing never goes away, it seems to multiply in the darkness, there's almost always a hovering mass waiting for me in the laundry, draped over chairs, or forgotten piles hidden by who knows who behind doors... I'm preaching to the converted I know.  Enough.  We all wash.  You understand.
So - pegs.  We have plenty of them at our house, plastic, timber, fancy-schmancy, and plain.  We use them to hang boring bucket-loads of washing, but they also do double duty hanging kids art-work, and birthday-cards off wire-strands in our house.
Inspired by the many beautiful pegs floating around the internet,
I printed out a page of Christmas Printables, and cut it into little rectangles.  Using normal glue, I stuck them on one side of each of a set of weathered, old, timber pegs.  Mimi loves that our washing line looks so festive and following my initial success, I intend to buy a new set of pegs (timber ones with a flat-side work best) and make a nicer set
to hang our family's Christmas cards as they start arriving.
The Christmas Printables, and other printables are on line... not on the line, but on the web... ahh... I'm tired... but you know what I mean!