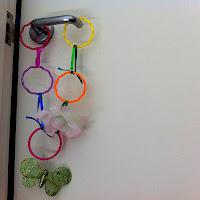 It's no secret that not all of us are athletes.  Not all of us are into sport either.  Not all of us really get what all the fuss is about.  I mean I do.  And I don't.  I am amazed by the dedication, the super-human fitness, the intense training, the level of commitment, determination and effort that goes into competing, and I can't imagine what a great honor it must be to 'be the best' and to represent your nation... but at a time when people are struggling, how many gazillion dollars were spent building a venue for trampolining?
To be fair, London will be amazing, I have no doubt, there's no better way to bring the world together, and no nicer city.  Besides, the past Olympics have some way-out-there historical facts that will be pretty hard to beat.
Did you know that sports events
the Olympics
used to have included:
Tug of War - featured in five Olympics in the early 1900's, featuring 8 men versus 8... how cute to think we kept the Olympic spirit alive at Mimi's birthday party with Mermaids vs Pirates!
Obstacle race - like a modern game show, contestants had to swim in a river and navigate a number of items - it was only swum only once in 1900 at the Paris games.
Live pigeon shooting - once in 1900... yuk.
Firefighting - once in 1900... apparently...
Poodle clipping - again, only once in Paris 1900... could I make this stuff up?
Plunge Diving - took the plunge once in 1904 never to resurface.
Korfball - 1920 & 28.
Rope climbing - was only stopped in 1932.
Handball - 1936... but alive and well in schoolyards around the world. 
Water skiing - featured once in 1972.
Solo-synchronised swimming - played in three Olympics games (1988-92) before being discontinued for being paradoxical.

Then there's those funny walkers...

Curling...

And a few others, but I don't want to embarrass them... besides, who am I to talk?!
On a crafty note; since it's apparently illegal to craft the Olympic rings out of anything these days, be it sausages, bagels or baguettes, I won't.  Instead, Mimi and I bowed down to pressure and tied our 5 coloured bracelets side by side with ribbon and added some other decorations to make a deconstructed version of our deconstructed Olympic spirit; 
Go Australia - and good luck to the rest of you!
(If you want to get in a printpaper mood and craft up some Olympic table settings, go with the Super Hero package... or maybe the Circus ones... you be the judge!)