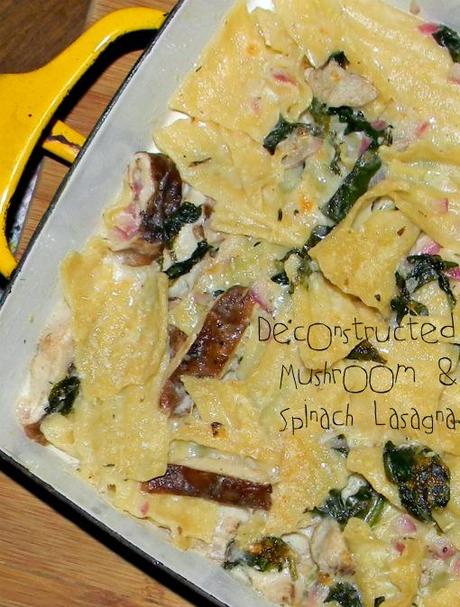 This is a quick way to use up those odd and broken pieces of lasagna noodles that are always left in the box after making a traditional layers lasagna.
What I liked about this was the fact that you throw it under the broiler for 5-7 minutes until the edges get crispy, just like in a baked lasagna. Took me all of 20 minutes to make.
I boiled the torn noodles for 10 minutes, drained and cooled them. In the same pot I sauteed all the vegetables, added the cheese, a little lemon juice and wine and stirred the pasta back into the pot.
Pour the mixture into a large enough broiler safe pan, just large enough for one layer, so all the pasta is exposed to the broiler. Sprinkle with the Parmesan and broil.
Fast, easy and really tasty, you could use any vegetables you have laying around, even frozen ones.
Deconstructed Vegetable Lasagna
From the kitchen of Wish Upon A Dish inspired by Food & Wine
makes 2 servings
* 4 broken pieces of curly lasagna noodles
* 2 tablespoons olive oil
* 1 cup fresh baby spinach
* 4oz container shiitake mushrooms, stemmed and sliced
* 2 tablespoons butter
* Salt & pepper
* 1 large shallot, minced
* 1/2 teaspoon fresh thyme, minced
* 1 tablespoon white wine
* 1 teaspoon fresh lemon juice
* 1 ounce goat cheese
* 1/3 cup pasta water
* 1/2 cup grated Parmesan cheese
1. Boil pasta for 10 minutes. Drain and reserve 1/3 cup pasta cooking water.
2. In same pot, heat olive oil and saute shallot and mushrooms until cooked.
3. Add thyme and white wine and deglaze the pan. Add the water, goat cheese and the spinach.
4. Toss in the pasta and add the lemon juice and butter.
5. Spread mixture evenly into a broiler safe pan and sprinkle with the Parmesan.
6. Heat the broiler to high and broil for 5-7 minutes. Remove when the pasta edges are browned and crispy.
Review: The Nudge plowed right through this for lunch. He said it microwaved wonderfully and was light but with lots of flavor and thought it was one of the best pasta dishes he's had. Go figure. I honestly thought he would say it was just "OK".