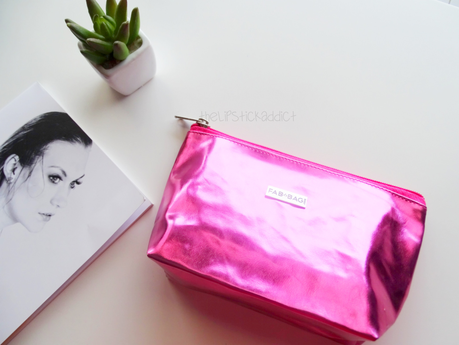 December Fab Bag is one of my favorites so far! I mean, who can resist a full size newly launched lip crayon? Not me!
I have had a chance of trying out another shade from this collection earlier and I must say I fell in love instantly. And it was such a surprise and nice welcome to see another shade from the collection in the bag. Besides, I got more than 1 product which was just perfect to carry it on my trip to Goa.
I had this blogger event by Tata Motors at Alila Diwa, Goa over the weekend and this bag just came on time. I was happier for the simple reason that I had some handy products that I can carry on my trip. Here are the pics –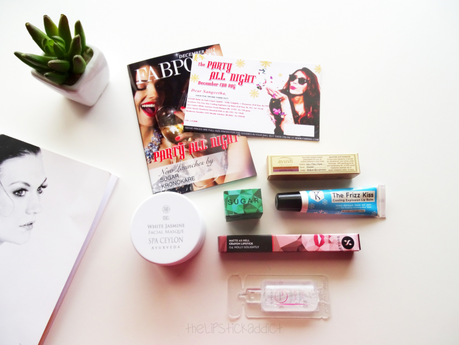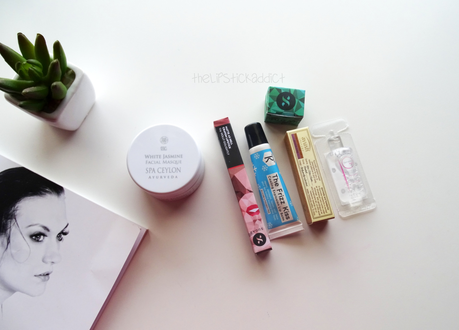 Spa CeylonWhite Jasmine Facial Masque
Like I mentioned before I totally dislike getting products in a tub, purely for the hygienic reasons. But on the other hand, it's a brand I have tried already and I totally love it.
October Fab Bag had Spa Ceylon Green Mint Cooling Foot scrub which I loved, so when I was given a chance to pick a product of my choice; I opted for this. I am not particularly fan of anything jasmine scent but it was from Spa Ceylon so I took the risk. While am yet to try this masque out, I am hoping I would be as happy as I was with the foot scrub.
Sugar Cosmetics Matte As Hell Lipstick Crayon + Sharpener
This one stands to be the star product. I received the shade – Holly Golightly which is a soft pink nude color and it's totally gorgeous!
On a side note, I have had chance to try out their kajal pencil earlier and liked too but these lipstick crayons are on another new level! Mary Poppins happens to be my first favorite from this collection.
Kronokare The Frizz Kiss Lip balm
Haven't been a fan of Kronokare, I find their product scents to be too artificial and too strong for my taste. Though the product claims here seem pretty good, am just going to pass this.
Ayush Therapy Headache Nashak Roll On
One of my favorites again, this product seems pretty good so far. I have had mild headaches and this did help me calm down my nerves. But then its true test would come when I have nasty headaches to battle. Will keep you updated on this one!
On a side note, this is so convenient for travel!
Bioderma Sensibio H2o
This was another product that was just perfect to carry in my travel kit. I have used this product earlier and is one of my favorite brands. So getting this in the bag was nice. But then, the sample is little inconvenient to use. Also once open needs a container to transfer and/or use immediately.
That aside, this is one of my favorites from this month's bag.
These are my favorites -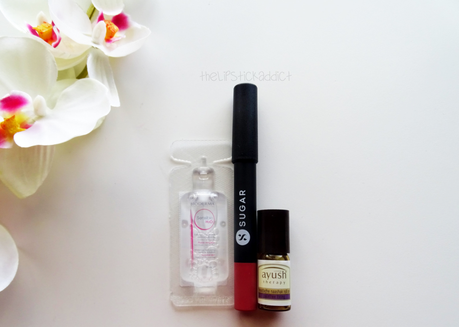 With so many favorites, this month's bag is surely a must have! Have you got yours?

Don't miss out on the Sugar Cosmetics Lipstick Crayon at any cost!


Much Love